It would be a great idea to use a browser plugin which can automatically convert monetary amounts from one currency to another.
This has two advantages. First, you don't need to use a calculator every time you want to convert US dollars to your preferred currency. Second, the browser extension will automatically choose the latest exchange rates so you save time finding the exchange rates between a pair of currencies.
Enter Chrome Currency convertor – a Google chrome extension which will automatically convert prices (Dollars, Pounds, Yen and Euros) within the page to the selected currency of your choice. If any conversion take place, an icon will appear on the address bar. Hovering on it will show the sum of conversions. Clicking it will restore (and convert back) the affected prices.
Once the extension is installed, go to the extension options and select your base currency. Since I live in India, I chose Indian rupee (INR) as the base currency.
Now login to your Paypal or Google Adsense account and you will see the account balance in your chosen currency and not in U.S dollars.
Firefox users can use the Forex currency converter add-on. Once the add-on is installed, login to your Paypal or Google Adsense account and left click the money balance.

Select your desired currency and hit "Convert". The conversion will be performed according to the latest exchange rates and you will see the converted amount instantly.
Using Paypal Calculator
If you work online as a freelancer and get funds to your Paypal account, sometimes you might want to convert Paypal fund amount to a local currency. In such cases, it would be a good idea to use this Paypal fee calculator, which can convert Paypal amount to a local currency.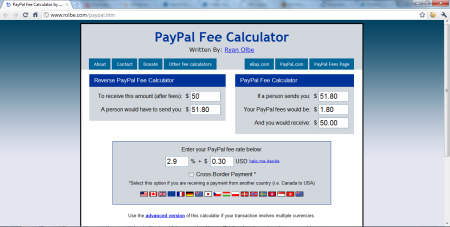 Additionally, the Paypal fee calculator also lets you find out how much money will be deducted as fee amount, if you transfer funds to your Bank account or send a payment to another Paypal user.