2 Ways To Solve 3D Touch Problem in iPhone 6S and 6S Plus
3D Touch is just awesome in terms of ergonomics, engineering and usefulness. A 3 dimensional touch system is integrated into iPhone 6S and iPhone 6S Plus by Apple. This 3D Touch technology reads the microscopic changes, change of radius, touch pressure and so on.
3D Touch is actually very useful because users do not need to navigate through various options in order to do something specific. For example, you do not have to open the Camera app and then switch to Selfie mode to capture selfies. Instead, you can just change the type of touch or gesture to open Selfie mode directly using the Camera icon in iPhone 6S and 6S Plus.
The same thing is available for other apps as well. For example, if you want to send a reply to someone who has sent you an email, just can just use the peek and pop feature to do so. You can get the Reply window following the reading the email quickly. The same 3 dimensional touch can be used to edit images, open recently played videos, music and more others.
However, if you are getting any issue with 3D Touch in iPhone 6S and 6S Plus, you should read this completely before heading over to the Apple Store to claim the issue. Here is two most common problems of 3D Touch that something looks very awkward and furious for users.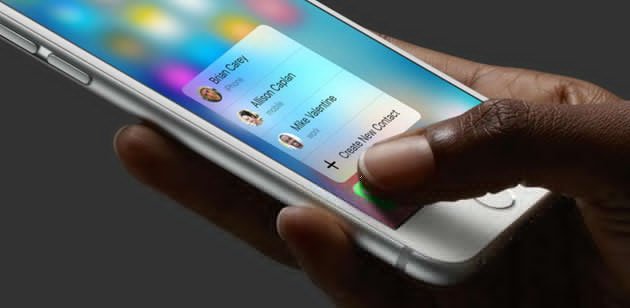 Not All Apps Are Capable of 3D Touch
That's true. Not all apps will be running through 3D Touch in your respective iPhone. Although, 3D touch can be used to do different things using Stock or in-built apps, but some third party apps may not provide 3D Touch facility. The following Stoke apps will run 3D Touch system,
App Store
Calendar
Camera
Clock
Contacts
Find My Friends
FaceTime
Game Center
iTunes Store
iBooks
Messages
Maps
Mail
Music
Notes
News
Phone
Photos
Podcasts
Reminders
Safari
Video
Voice Memos
Wallet
Some third party apps like Facebook, WhatsApp, Twitter etc. work with 3D Touch. However, if you are trying to get 3D Touch in other apps, make sure it has the compatibility. You can also contact with the developer of that to know the ETA.
3D Touch Needs Opened Apps To Show More Options
There are two types of options that 3D Touch displays. Static options and Dynamic options. For example, if you have Twitter app and want to use 3D Touch without opening the app, you will get Compose Tweet option only.
However, if you have opened the app previously and then trying to do something using 3D Touch, you will get more other options like Tweet to Someone etc.
If you have Maps and haven't opened it, you will get Navigate, My Location etc. However, after opening this app once, you will get more other options like Directions Home, Mark My Location, Send My Location, Search Nearby etc.
The things goes with other stock apps like Message, Camera and all others. Your system needs more information to provide 3D Touch options. To send more information from the app to your 3D Touch system, you must have to open the app at least once.
Verdict
Before claiming anything about 3D Touch of iPhone 6S and 6S Plus, you should check whether your app is capable of running 3D Touch or not. If still you are getting any issue for Stock apps, you should head over to Apple Store.