Being a reviewer of web apps I've (free) storage accounts with almost all the major cloud storage services available and all the (free) storage they offer accounts to almost 150GB (I own multitude of accounts on most). Now if that's an advantage if storage is concerned it also means a heck of a lot of mess as far as accessing and organizing is concerned. A central access for all those files on all those accounts might have been great. There are Gladinet and similar apps for that but something more seamless would be better. If you are like me, you will be lucky to find Otixo.
Sign up for a free account. As you get into Otixo you can add your cloud storage accounts one by one. Currently supported services are Dropbox, Box, SkyDrive, Google Docs, SugarSync, Picasa, CX, Amazon S3, FTP sites and WebDav drives. Another great thing is that you can connect multiple instances of same service. So if you have multiple accounts on a single cloud storage service you can add all of them. Drag and drop transfer of files between all the connected accounts will ensure you have an organised cloud storage backup.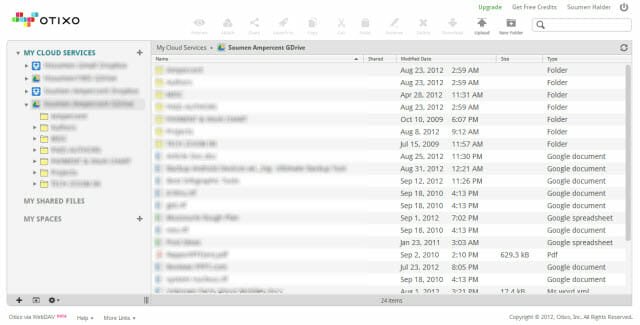 Comments on files are a great feature if you are also looking for collaboration and teamwork with the hosted files. 256 bit AES SSL Encryption guarantees added security for all the file transfers made with Otixo. The online app uses OAuth for gaining access to your cloud storage accounts like Google Docs, Dropbox, Box, Picasa, and SkyDrive. However, other cloud storage services (supported by Otixo) that don't have OAuth, need to be connected by providing your account credentials to Otixo. You can choose to save the passwords or provide them everytime you access the storage. The service although promises to store the passwords with strong authentication.
Otixo uses Google Docs Viewer for previewing files and Recurly as an intermediary of their merchant account to handle recurring payments. During my test the file preview didn't work as publicized.
The service offers two pricing plans. One is free where you can use upto 2GB bandwidth (file transfers) and other one that offers unlimited bandwidth costs $9.99 per month. Thankfully there's no feature bar for the free plan except for the bandwidth limit. So if you aren't planning for a paid cloud storage, you will at least be comfortable with the paid plan of Otixo that helps you access, search and organize a hefty amount of combined cloud storage that will fit your requirements.