Windows right click menu do not have "Copy to" and "Move to" commands by default but you can implement the same using a tiny freeware application. This will allow you to copy or move folders and files from the Windows right click context menu itself.
Download Add copy to and launch it. The utility does not require any installation so there is a good thing and a bad one if you are using this one. The good thing : You can use this utility on multiple computers and carry it in a usb stick. The bad thing : Everytime you wish to add the entries you will have to browse to the set up file and launch it to get the job done. ( read : launch program files using Key combinations )
Just hit the add button and you have your right click context menu filled with those two entries. To remove them just launch the utility again and click the remove button.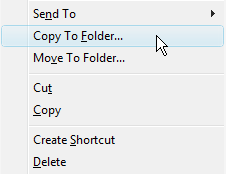 Using a Registry trick to add Copy to and Move to in Right click Context Menu
But if you need a permanent solution to add the two entries in the right click context menu, go ahead and download the required registry files. Just execute the two registry entries that comes with the package and you will have them added in your right click context menu.