Helping Blind People See by Crowdsourcing Eyes With an App
Be My Eyes is a new app that promises to make the world a better place to live for blind people. Armed with technology and a vision to change the world, the team has developed an app that will crowdsource eyes for helping blind people see.
Be My Eyes, aptly named, is an app for blind people who can use their smartphone camera to make video calls to other people and see the world through their eyes. There are hundreds of thousands of volunteers who are ready to receive video calls. When a call is accepted, the volunteer would be able to see whatever is front of the blind person's camera, thus becoming their eyes. They can then communicate with each other and guide the blind person helping him/her make decisions. Let's see how Be My Eyes works and some practical usage scenarios to better understand how you can use to help blind people.
Here is how it works. You download this app on your Android or iOS device.
I am a Volunteer
When you open the app for the first time, you will be presented with two options. "I am a blind or visually impaired" and "I am a sighted volunteer". If you are a volunteer, choose the later but if you are blind or if you want to help a blind person install the app who is close to you, choose the former.
You will be now asked to choose your primary language. The app is available in more than 80 languages. Let's say you are a sighted volunteer. Select the right option and register your account. Now, there is this blind person who needs to choose between two jackets at a mall.
He will place a call and instantly, the app will send a notification to a number of volunteers chosen randomly. You see this notification and choose to accept the call. Just like any other app to app video calling, you will be able to see whatever is in front of this blind person's camera. The blind guy/girl will point his camera towards the jackets and ask you which one looks better. You answer the black one because it looks cool. Now, I don't know whether the jacket was cool, but this app is definitely cool because it just helped a blind guy make a choice he otherwise couldn't have made. This is not just an app for blind person, but sighted volunteers are also needed.
When you receive a notification telling you that a blind person needs your help, you can either choose to accept the call or cancel. There might be situations where you are not in a position to help, and that is okay. This is why the app sends a notification to a number of volunteers to make sure that someone will answer the call.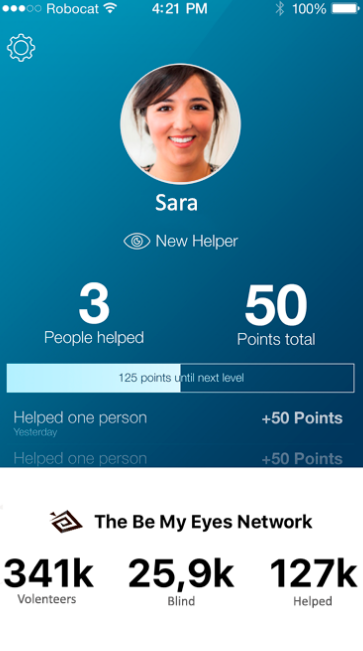 Every time you help a visually impaired or blind person, you get points and there are levels to break. There is a huge community and it is growing every day.
I am Blind or Visually Impaired
The first few steps will remain the same. You open the app and select "I am blind or visually impaired". You will select your primary language and create an account.
You will notice a button on the screen, which is covering the whole screen, so the blind can tap anywhere on it to initiate a call. It says "call first available volunteer". So when you need assistance with a task, you just make the call.
A number of random volunteers will receive a notification telling them that a blind or visually impaired person is looking for help. The notifications will be sent based on your primary language selected so that there is no language gap. The moment someone answers the call, you are now in a live video call. The app will use your phone's rear camera. Ask him/her whatever you want and try and point the camera in the right direction. Volunteers can even guide you in the right direction by asking you to turn your camera in the appropriate direction. This app was designed to help blind people. There are several scenarios where you can help blind people make important decisions.
Usage Scenarios
Maybe the visually impaired person wants you to read and quote the price written on a product sticker, or name and expiry date written on a medication, or house number on a street. You can help them walk in the right direction or take the right turn.
The possibilities to help a visually impaired or blind person is endless. You can actually make a difference with this app. You don't even have to go looking for people to help, you can do it in real time from the comfort of your home.
Whenever you are free and want to do some good in the world, simply open the app. You can only receive calls for help when the app is open. Here is what you can do. You can keep the app open when your phone is in charging and you are sitting on your desktop. That way, the app won't drain your battery and you can pick up calls for help when you see a notification.
Be My Eyes is a practical app that will, no doubt, help a lot of people make the right choice. We have seen crowdsourcing projects for smart and mundane products, but crowdsourcing eyes for helping blind people see is indeed worth participating in. The developers have done an amazing job. Kudos to them.