How to Get a Healthy Hard Drive using Ashampoo HDD Control
Without having a hard drive, any gadget will not work appropriately and cannot accomplish a user's needs. No matter what kind of gadget you are using on a daily basis, but your device must have a hard drive. Computer users are calling it as Hard Drive and the same thing is known as Internal Memory among mobile users.
Hard drive is one of the most imperative parts of any gadget, which cannot endure any kind of small impairment. Whenever, you are facing slow computer issue, it can be for the HDD. You should be concerned yourself and check your HDD for different issues at particular times. Perceptibly, this is not possible by you without having any third party app since Windows doesn't provide any tool to do so. That is where Ashampoo HDD Control 3 comes in to play this vital role.
Price of Ashampoo HDD Control 3
This exceedingly useful Windows utility is priced at only $49.99. Nonetheless, before purchasing, you can try the trial version of this software to know whether this can resolve your problem or not.
Features and Deep Look into Ashampoo HDD Control 3
Unlike other regular third party software, it offers some accommodating features to get a healthy hard drive, which is really important.
System
This section is not much important as it shows only common information about your hard drive. You can find Hard Drive manufacturer name, temperature, serial number, firmware, cache memory, unique 64bit ID, hard drive usage etc.
Defrag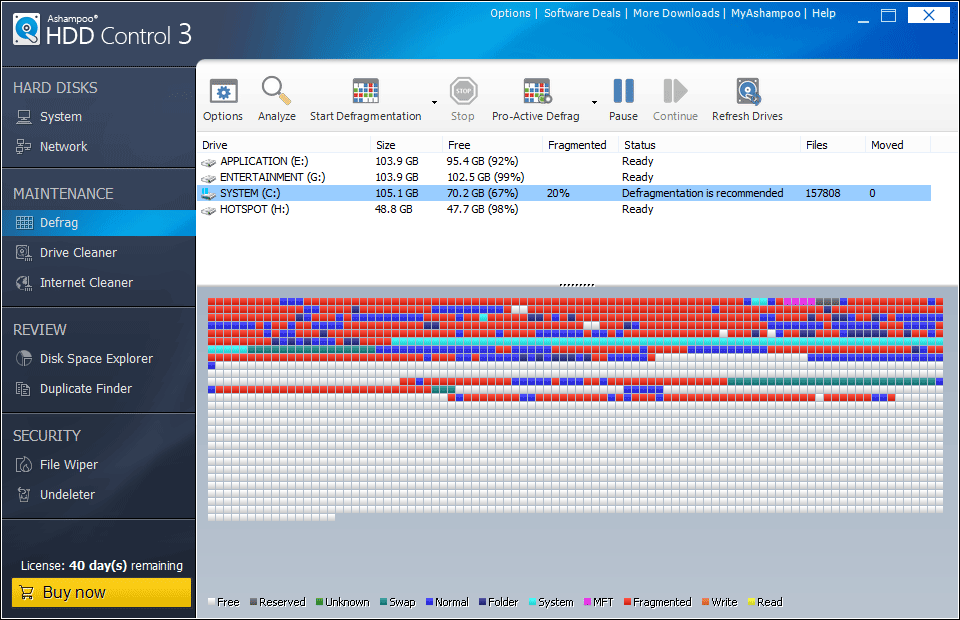 Here is the actual Hard Drive maintenance utility. You know that Windows provides a free hard drive defragmentation tool, but that is not up to the mark. If you do not like to use that inbuilt tool, just head over to Ashampoo HDD Control 3. This Defrag section does what it says. You will get all the partitions to check in. Just click on any precise partition and Analyze button respectively. It will automatically run the defragmentation process in the background by clicking the Start Defragmentation button and show you the result in real time. Although, it depends on partition size, but it doesn't take more than 15 second to complete all the progressions.
Drive Cleaner
Temporary files, useless log files, countless app cache, etc. play a substantial role to make your hard drive quite noxious. However, Ashampoo HDD Control 3 can take care of this thing. You can simply head over to the Drive Cleaner tab to scan and analyze those aforementioned files, which take a lot of space. Just click the Search button to get the analyzed files. After that, hit the Delete button to get things done.
Internet Cleaner
No matter what kind of software you use on your PC, but all of them store their data and program files in your hard drive. Different browsers such as IE, Firefox, Chrome etc. are not out of them. You can manage cache, cookies, browsing history and everything of any web browser right from this tab.
Disk Space Explorer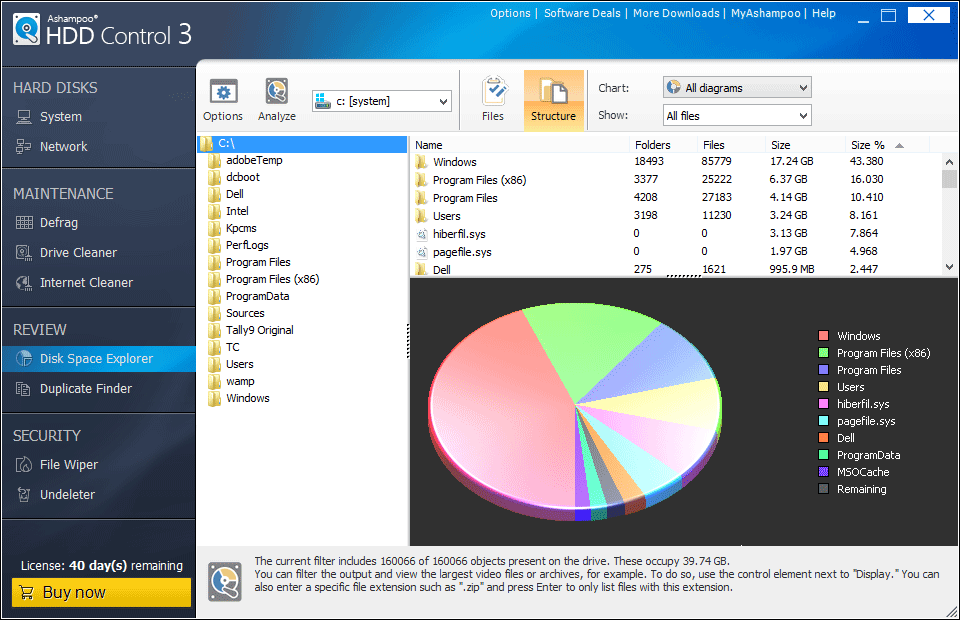 It is yet another caring component of this tool. You can find a detailed graph according to your files and folders. You can explore across partitions to know which files or folder is consuming most of the memory. Indeed, this element of Ashampoo HDD Control 3 is really effulgent that makes it even better.
Duplicate Finder
This feature makes it all-in-one software. Although, previously mentioned tools have done this same thing, but you can find a better outcome through this software. The only positive as well as drawback of this feature is it scans the entire hard drive and doesn't provide any option to make custom scan. However, the advantage of using this feature is you can get all types of duplicate files including .inf,.dll,.vp as well as images, audio, video and all others.
Undeleter
If you have deleted something by mistake and would like to get that back, here you go. This Undeleter option can scan your hard drive and show whether there is any recoverable files or not. If you find your file(s) in the scan result, you can simply recover them. It works something like different recovery tools such as Power Data Recovery, Wondershare Dr. Fone etc.
Ashampoo HDD Control Settings
It comes with a complicated yet understandable settings pane that will let you run this tool as per your requirements. In the settings pane, you can find managed options according to the aforementioned features. By making use of the settings window, you can set up different conditions like whether you want to include Chrome (Or, any other browser) in Internet Cleaner tab or not and so forth.
Conclusion
The last question is, should you buy it? The answer is quite complicated. Actually, it depends on your needs. If you are facing numerous issues with your hard drive and want to get healthy hard drive back, then this would be  good solution.