ASUS VivoBook 14 X403FA: A Compact Laptop With Impressive Features
ASUS has been manufacturing laptop for a long time now, and they have some brilliant devices so far. ASUS VivoBook 14 X403FA is another excellent laptop that sports numerous smart functionalities that will impress you for sure. Although this laptop is not for avid gamers, this one is suitable for students, businessman, travellers, etc. If you are looking for a laptop under Rs. 60000 in India, you can take a look at this gadget.
ASUS VivoBook 14 X403FA Features And Specifications
There are several things you should know about this laptop, and some of the essential information are mentioned here.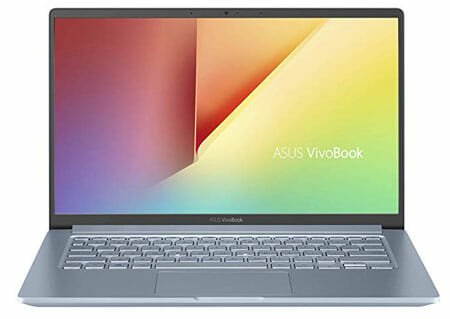 Battery: You might be thinking that who starts a review with battery. That's correct as nobody does, but we need to make an exception because of the claimed battery life. According to ASUS, this laptop can provide up to 24 hours of backup with a single charge. Even if you get something close to that mark, it would be more than enough for anybody. Talking about the battery, it has a 4-cell 72Wh battery, and it can help you to play videos for 24 hours without any interruption.
Display: This laptop includes a 14-inch display with 1920x1080p of resolution at 60Hz refresh rate. In other words, you can work on it to make a project, presentation, YouTube video, and so on. Although it has a FullHD panel, the colour could have been better. As travellers can use it regularly, they might work in broad daylight. To skip the reflection, ASUS included an anti-glare coating for better interaction. In other words, the screen is not reflective – instead, it has a matte finish.
Talking about the GPU, it doesn't have any additional graphics card as you need to be happy with integrated Intel UHD Graphics 620.
However, as mentioned earlier, you might face little problems while using it in a park or open coffee shop in the daytime. The screen brightness is subtle, but it is not the brightest. The overall display quality is good, and it has a wide viewing angle, but it could have been better.
Performance: The core performance and speed depend on the RAM, processor, and storage quality. This laptop has smart processors with less speed, but it does the job without any issue. To be more specific, you can find Intel Core i5 8265U at 1.6Ghz with 6M cache. The processor seems fine as ASUS targeted students and businessman for doing projects and low-end works on this laptop.
However, you should know that you need to deal with DDR3 RAM, which might not be the deal-breaker, but it works pretty well. ASUS VivoBook 14 X403FA sports 8GB DDR3 RAM with a speed of 2133MHz. However, you might not get other issues because of the OS they are providing. Many old laptops got a new life with Windows 10, and you can find the same in this laptop as well. Other than that, it has a 512GB SSD.
You might not want to play games because of the screen size, but if you play, you should not have any problem even with a high-end configuration. Before playing any game on this laptop, you should know that it is not for gamers. Therefore, some laptop and frame drops are regular on this laptop.
Keyboard And Trackpad: A backlit keyboard always looks fancy and premium, and you can find that in this laptop. The keys are soft enough and friendly for a writer who spends 5-6 hours writing articles. You might not see the 'clicky' sound like a mechanical keyboard, but you can find a little bounce while typing. Your fingers should not have any ache because of the softness.
The problem starts when you compare the trackpad with the keyboard. The position of the trackpad is not right, and many people might often face issues while using it. The trackpad quality is good enough for a regular user, but you might face placement issue while using it.
Talking about the trackpad, you can find the fingerprint scanner included in it. There are some laptops, where the fingerprint scanner is not good enough as they take a lot of time to recognise it. That is not the case with ASUS VivoBook 14 X403FA as it is insanely fast so that users do not need to spend a lot of time to unlock their PC.
Input/Output: This is a small laptop, but it has almost all the possible ports so that users do not encounter any issue with a third-party device. For example, you can find 3.5mm audio jack, 1 Type-C USB 3.0, 1 Type-A USB 3.1, 1 USB 3.0 Type-A, 1 USB 2.0 Type A, 1 HDMI 1.4, 1 SD card reader, etc. are included in this laptop. On the other hand, you can see HD webcam for video calling.
Build Quality: The dimension of this laptop is 20.8 x 32.3 x 1.7 cm, and it weighs 1.35 Kg only. Being a Windows laptop, this is a reasonable weight that you can find right now. The overall appearance of this laptop is pretty good, and that is because of the glossy ASUS branding on the back. In the photo, the keypad might not look good, but it is totally fine in real life.
Should You Buy It?
Before jumping into the final decision, you should know one thing. Do you want to get a laptop for casual video/photo editing, PPT presentations, and writing projects? If the answer is yes, you can buy this laptop without any problem. However, if you are looking for a small laptop for gaming, this device might not suit your needs.