Best Accessories for iPhone 7 and iPhone 7 Plus
Apple launched iPhone 7 and iPhone 7 Plus a few days ago, and the performance of these two mobiles seem pretty good. Few professional reviewers have checked these mobiles and according to them, these two mobiles have got several enhancements those will make the mobile even more famous. However, every mobile needs some accessories to make it look better, get better performance, and so on. Check out these accessories for iPhone 7 and iPhone 7 Plus those will certainly make your smartphone even better.
Best Accessories for iPhone 7 and iPhone 7 Plus
1] Power bank
No matter whether you have iPhone or any other mobile, but you should always carry a power bank to get more backup from your mobile. Nowadays, we use mobiles a lot for different purposes. Hence, they start giving less battery life after few days of usage. In this case, there are two iPhones those do not provide as good battery backup as other manufacturers di. Therefore, this is obviously a good decision to use a power bank. There are plenty of power banks available on Amazon as well as other third party websites. For example, the Xiaomi 20000mAh power bank is a good choice. During the personal test, it gave 4-time full change on a 3300mAh battery. Therefore, you should get minimum six times for iPhone.
2] Apple Lightning Dock
Apple Lightning Dock is a great Apple made product that helps users to do different things. Although other docks help users to mount more than one mobile, yet, Apple Lightning Dock doesn't allow more than one iPhone having a lightning port. This is a great compact accessory for iPhone that can let you do the following things,
Synchronize iPhone with your computer
Charge iPhone through computer
Change phone from electrical outlet
Get clear speakerphone experience
It costs around $39, and it looks pretty good. On the other hand, you can mount iPhone 5 and any new iPhone as well as iPod touch 5th Generation and iPod touch 6th Generation.
3] Case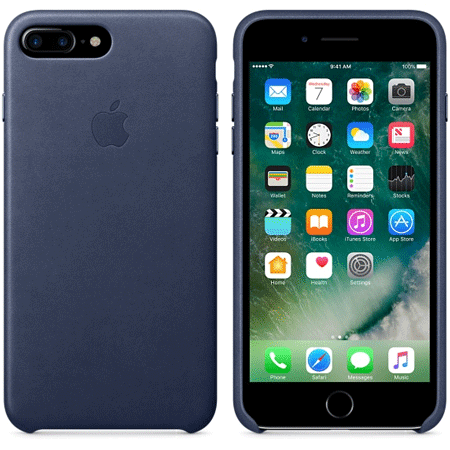 The case is probably the must have accessory for the jet black iPhone since it can be scratched anytime. As this is an expensive device, you should use a case. You can purchase a case from Amazon, AliExpress or any other trustworthy site. Apple has their very own leather case for iPhone 7 Plus. You can choose different colors including red, storm gray, sea blue, tan, midnight blue, etc. It costs around $49. For your information, there are few types of back case i.e. transparent, colorful, etc. i-Blason ArmorBox Heavy Duty iPhone 7 Case is another good looking case that costs around $20.
4] Lightning-to-Headphone-Jack Adapter
You know that iPhone 7 and iPhone 7 Plus have not headphone jack since Apple has opted for wireless music experience. However, there are many people, who do not like to use wireless headphone of Apple. If you are one of them and want to use your old 3.5mm headphone with iPhone 7 and iPhone 7 Plus, you can try this Lightning-to-Headphone-Jack Adapter that is made by Apple itself, and it is priced at $9 in the US. At first, you need to connect this adaptor with your iPhone and then connect 3.5mm jack with the other port.
5] External headphone
If you do not like the wireless headphone of Apple, you can certainly use any other third party headphone. However, most of the third party headphones come with 3.5mm jack. Therefore, you have to use the Lightning-to-Headphone-Jack Adapter. On the other hand, you can use wireless headphone for a hassle free experience. There is a huge list of compatible headphones from different manufacturers. For example, you can use Sennheiser M2 IEI Momentum In-Ear Earphones, SoundMAGIC E10C In Ear Isolating Earphones and more. Just open an e-commerce website and choose one that suits you the most.