Best Android and iOS Apps to Check Live Football Scores and News
Football, Soccer, Futbol, Futebol or whatever – name can be different, but the game is same. Football or Soccer is probably the most watched game from across the globe. This is because of having so many popular tournaments and leagues throughout the year. You can find a football viewer in almost every home in your city, who watches leagues, tournaments, etc. But, what if you are not in your home or in front of television to watch your favorite team playing against the nearest rival? That is probably the worst thing and a nightmare for a football fan.
Apparently, you can watch football on different mobile apps, but some people do not want to utilize so much bandwidth when they have a limited internet connection. Therefore, here are some Android and iOS apps to check live football scores and news on your mobile so that you can be updated all the times.
Best Android and iOS Apps to Check Live Football Scores and News
1] Goal.com [Android & iOS]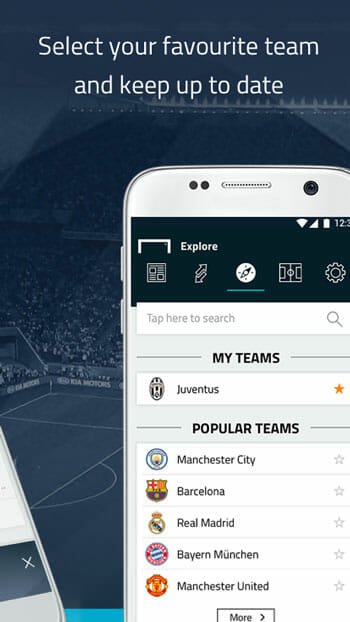 Goal.com is probably the best source to get all football news. They cover almost all the leagues and tournaments including EPL, La Liga, UCL, Europa League, Serie A and all. This is possible to get news about domestic leagues such as Indian Super League etc. You can get the whole Goal.com site on your mobile screen where you can check particular player bio or live match news. Talking about the app, this is a very light-weight app available for Android 4.1 or later version and iOS 8.0 or later version. Download: Android | iOS
2] ESPN [Android & iOS]
ESPN is yet another source of sports news. Not only football but also you can find news of other sports such as cricket, basketball, etc. Although it comes with so many categories, you cannot find any mess since all the things are well categorized. The user interface seems really neat and clean. Like the app above, you can find live soccer news, commentary, and score. It doesn't matter whether it is EPL or Premiere Division, you can certainly find your team's matches in this app. ESPN app is available for Android 2.3.3 or later version. On the other hand, if you want to install it on iOS, you should have iOS 9.0 or later version. Download: Android | iOS
3] theScore [Android & iOS]
This is another great free app to get live football scores and match updates. Like ESPN app, you can get news of different sports as well as leagues. Regarding football section, you can get news of English Premier League, UEFA Champions League, Serie A, La Liga, Bundesliga and more. As usual, there is no clutter on the interface. You can find a black theme that will let you access the app even when you are in a low light area. This is possible to make your team favorite so that you can get the updates quickly. At the same time, you can get the match fixtures in a weekly basis. Download: Android | iOS
4] 365Scores [Android & iOS]
365Scores is one of the best football related apps that doesn't require any more upgrade since this is a compact app that can show your later football news, score updates, player profiles, match updates and more. Like theScore app, you can mark your team favorite so that you can find your fixtures quicker. Not only that, but you can also watch match highlights and some other videos on the same app. In case you do not know the TV channel to watch the match, you can also get the channel updates right on your screen. For your information, you can watch other sports as well including NFL, NBA and more. Download: Android | iOS
There are more other apps for the same purpose. However, these are the best in this case. If you want to check live soccer news, match updates, etc. you can certainly opt for any one of them.