Best Facebook Messenger Bots to Get more out of Messenger
Although different people use Facebook in a different way yet a vast majority of individuals always spend a lot of time on Facebook chatting with friends, playing games or just scrolling from up to down. In other words, Facebook has become just time wasting thing for many people. However, if you think that Facebook is a waste of time, you should try the Facebook Messenger bot that will let you stay updated with different things without even using any other third party app. All you need is just Facebook Messenger on your mobile. Here is how to install Facebook Messenger chatbot and some best Facebook Messenger bots to get more out of your Facebook account.
What is Facebook Messenger Bot?
As the name defines, this is a bot that works with artificial intelligence and helps you to be updated with different information automatically. Once someone sets up a chatbot, it will be working automatically according to the setup. On the other hand, the user will be getting information on different things like sports, culture, technology, etc. right on the Facebook Messenger. It just helps users to get rid of various feed readers on your mobile.
Disadvantage of using Facebook Messenger Bot
Before installing any Facebook Messenger bot, you should know the advantage as well as disadvantage of using Facebook Messenger Bot so that you can do more from being a safe side. Apparently, you will be getting tons of news automatically as a Facebook message, but not all the news websites have developed their chatbot for Facebook Messenger. Still, there are hundreds of sites which haven't created their chatbot for their readers. Therefore, may be your favorite site is on the list. Also, some chatbot may not be working as good as it does in other countries. For example, the Uber bot works fine in the US but doesn't function properly in other nations. Therefore, if you can ignore these silly drawbacks, you can head over to the following guide.
How to install Facebook Messenger Bot?
To install Facebook Messenger Bot, you may need to use Facebook Messenger app that is available for mobile. If you do not want to use Facebook Messenger app because of data saving, you can simply open messenger.com and do the same. Both of them work pretty good and haven't shown any issue as of now.
So, open the web version or the Facebook Messenger app and search for a bot. Let's say this is The Wall Street Journal. So, search for Wall Street Journal. On Facebook Messenger, you will get some results under Bots and Business. On the other hand, the web version will show on Business. Both are same, but the terms are different.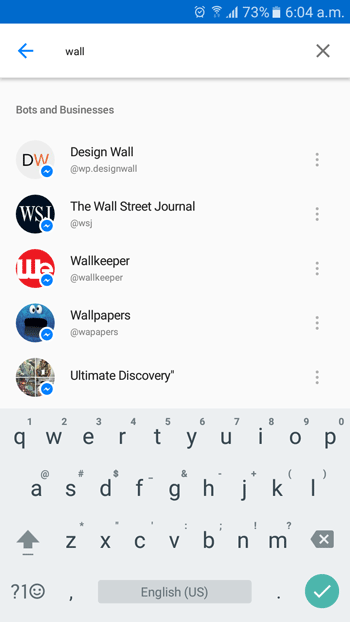 Tap on the "The Wall Street Journal". Every time, you try to open a new chatbot, you will get a Get Started button. Tap on that to start using it. Following that, different chatbots will do different things. For example, someone can ask you to ask questions. Some bots can ask you to select a category you like and so on.
After doing the steps mentioned above, you will start getting results like this.
You can also enable alters that will let you get the latest news in your Facebook Messenger as a message.
Now, as you have already installed your first Facebook Messenger bot, do forget to try these following bots those will certainly help you in different ways.
Best Facebook Messenger Bots
This is needless to mention that there are tons of FB Messenger bots, but these are some of the most useful bots.
The Wall Street Journal: The Wall Street Journal is probably the best source to get the latest news on sports, technology and more. If you want to read a newspaper in the morning, you should add this bot.
Football Daily: If you are a soccer lover and want to world soccer news, Football Daily chatbot is probably the best option for you. It would provide you all the latest news right on your Messenger.
theScore: theScore is yet another sports chat bot that helps users to get not only soccer but also NBA, MLB, NHL, NFL and more.
CNN: Like The Wall Street Journal, you can get the latest news of different categories in your Messenger using CNN chat bot.
HealthTap: Health is the biggest wealth and you can take care of it using this chatbot that shows different articles and notes along with pictures based on what you ask.
Hello Jarvis: Do you want to something to remember at a particular time? Use Hello Jarvis that will be working as a reminder right from Messenger.
Spring: Are you a fashion concerned person and want to get some better dresses? Spring can help you to answer your question with some visual graphics so that you can get a better idea.
Poncho: This is perfect for travelers. Poncho helps users to get the weather report of a particular area. You can enter the city name or the ZIP code to get a better result.
Assist: This is your assistant that will aid you to do different things including Getting a ride, Food Delivery, Send Flowers and more. Just ask it what you want and it will do rest of the job.
MemeGenerator Bot: Nowadays, we are using meme more than anything else. If you want to get a meme quickly, this chatbot will let you do that thing – obviously for free.
Uber: Want to get a cab? No need to open the Uber app on your mobile. Just ask the Uber bot to book a cab and it will do it for you.
So, these are some of the best and useful Facebook Messenger bots you can have in your message. Do let us know what you like the most.