Best Facebook Messenger Features You aren't Using
Until 2015, there was no Facebook Messenger. Users used to use the Facebook website to send a message to any Facebook friend. However, now you can install only Facebook Messenger on your mobile or open the Messenger website to check your messages. This little website offers a lot of features and options. If you have started using this app or website and you want to know more about this app/service, you can read on. This article contains some of the best Facebook Messenger tips and tricks those you might not know or not using.
Best Facebook Messenger Features
1] Start Secure Conversation
Although Facebook claimed that their conversations are totally protected, you can still enable secure conversation to get 100% security and protection over your conversation. It doesn't matter whether you use Facebook to connect with friends or for sharing any confidential information, you can certainly use Facebook Messenger to do so. There is an option called Secret Conversation that helps you create an end-to-end encryption panel where you can connect with your friends on Facebook. This is possible to enable it based on the contact. To do so, open a conversation on Messenger and click the info button visible on top-right corner. Therefore, you can select the option that says Go to Secret Conversation. The specialty of this encrypted conversation is your message will get deleted after a particular amount of time after being seen by the recipient.
2] Delete All Secret Conversations
As Secret Conversation works based on the device, you should delete all the secret conversations if you are thinking to switch from that device to another. This is possible on the Messenger app for Android as well as iOS. This is easy and not much time consuming as well. To get started, open Messenger app and tap on your profile picture. Here you will get an option called Secret Conversations. Under this menu, you can find an option named Delete all secret conversations. Tap on this option and confirm it to delete.
3] Send Live Location
Like WhatsApp, you can share your live location with your friends via Messenger app. This is easy and you do not have to go through complicated options to get it done. For your information, you can share location for 60 minutes at a time. To get started, open a chat conversation on Messenger and tap on plus sign. Here you will get the Location option. Following that, you will get page where you can select the location. At last, tap on Share Live Location button to start the sharing.
4] Use AR in Messenger
In Messenger, you will get an option to make video call. If you have to do a video call with a stranger and you do not want to share your face at first, you can use AR to hide your face. Augmented Reality or AR is one of the best things you can use while chatting. This is easy to use and you do not have to install anything to get it on Messenger. To enable AR on your face, you can tap on the star sign while making a call. Following that, you will get an option to choose which object you want to stick on your face while making the video call.
5] Ignore Someone on Messenger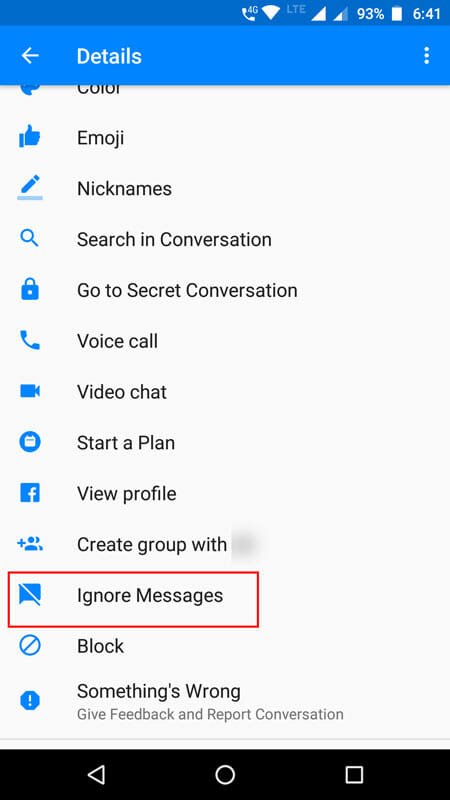 If someone is sending you a lot of messages and you want to get rid of him/her without telling him/her, you can simply use this functionality of Facebook Messenger. If you enable this option for a user, his/her messages will go to Message Requests instead of Inbox. Therefore, you won't get any notification as well. Obviously, this is possible to remove that person from "ignore" list. To put someone on the "ignore" list, open a conversation and click the info(i) sign. Following that, you will get an option called Ignore Messages. Tap on it and confirm the change.
6] Enable Data Saver
Let's assume that you often get videos and images from your friends on Messenger and on the other hand, you do not have much bandwidth. In that case, you can pause the download by enabling Data Saver on Messenger. This is an inbuilt option of Facebook Messenger and you can utilize it by following these steps. At first, open Messenger and tap on the profile picture. After that, you will get an option called Data Saver. After opening this option, you can toggle the corresponding button to enable Data Saver. After enabling, no image or video will get downloaded automatically.
7] Switch Account
There are many people, who use one account for personal usage and another one for business purpose. If you are one of them and you want to connect both account on Messenger, you can make use of this option. You can switch from one account to another so that you can keep using both of your account simultaneously. For that, open the Settings panel of Messenger and click on Switch Account. Following that, tap on Add account button and enter your log in credentials of your Facebook account. After that, you will be able to use that account on Messenger.
8] Use Chatbot
You can utilize various chatbots on Facebook Messenger so that you can get various information automatically. For example, you can get weather information, get latest news, and do more with the help of Chatbots. You can enable or disable various chatbots on Messenger for Android, iOS as well as Web. If you are using the mobile app, you can go to the last tab on the home screen of Messenger. Following that, you can find several chatbots. You can install one by providing your public information.
That's all! These are some of the most ignored features of Facebook Messenger. Hope you would use them to get more out of it.