Best Gmail Addons to Improve Productivity
Gmail is one of the best email services out there, which is being used by millions of people in the world. As Gmail is completely free, a Google-powered product, and can be synchronized across multiple devices through various email clients, people often opt for Gmail instead of any other email service. However, sometimes, you may feel like Gmail is missing something. If you often feel like that, do check out these best Gmail add-ons to improve your productivity and get more things done those are impossible to do with naked Gmail interface.
How to install Gmail add-ons?
This is very easy and not a much time-consuming task as well. There is no rocket science behind this installation process. You can install any addon right from the Chrome Web Store, where you can find all the extensions or add-ons for Google Chrome, Gmail, etc. Therefore, to get started, open Chrome Web Store, find an addon and click on ADD TO CHROME button.
It will take a couple of seconds to install the addon.
How to uninstall Gmail add-ons?
This is also very easy, and you do not need expert knowledge to get it done. Since Gmail add-ons get installed on Google Chrome only, you need to remove the addon from Chrome. For that, open Google Chrome browser > click the three-dotted icon visible on top-right corner > select More Tools > Extensions. On this window, you can find all the install extensions. Click the trash can icon to delete any addon from the browser.
Best Gmail Add-ons for Daily Work
There is a lot of add-ons for Gmail those you can use to get more things done in a little span of time. However, these following add-ons are personally tested. Therefore, you can use these without thinking twice.
1. Mailtrack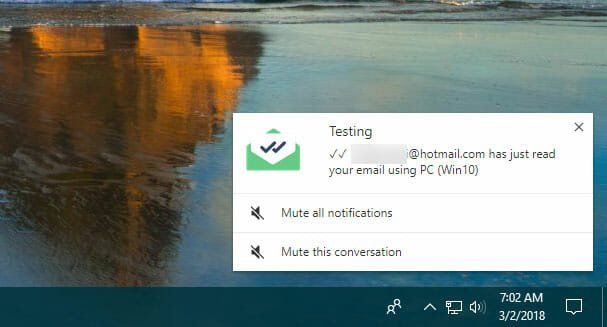 Mailtrack is a free Gmail add-on that helps you track al the sent email right from the same user interface, which you use to send an email. In other words, you can check whether your recipient has opened and read your email or not. This is like Google Analytics for Gmail users. However, it uses a different mechanism to track all the email. You do not have to do anything else except installing an addon and setting that up properly. To get started, install Mailtrack addon for Gmail and create a free account. Therefore, send email whoever you want. Whenever the recipient opens the email, you would get notified like the aformentioned picture.
2. Gmelius
Gmelius is an awesome addon that helps you do various essential things within moments. It adds up few couple of features those Google should add to Gmail. For example, you can find snooze message, schedule email to send that later, etc. By snoozing an email, you can get back to the same email without forgetting about it. The best thing is you can block email trackers those people use for various purposes. On the other hand, you can customize the Gmail's user interface so that you can find only essential things on your screen. However, Gmelius is not free since you need to spend $5 per month after 14 days trial period.
3. Checker Plus for Gmail
This is handy when you have multiple Gmail accounts, and you want to check all of them together. Like Android's All Inboxes, you can find a similar option by installing this addon. There are many people, who have more than one email accounts. For business, for family, for friends, people use distinctive accounts so that nothing gets consolidated. If you are one of them, you can try using Checker Plus for Gmail so that you can make everything separated but from one window. The user interface of this addon is pretty good, and you do not have to spend money to get this addon working for you.
4. Clearbit Connect
After creating an email address, we often start getting email from strangers. Not only new account holders but also people who have a very old email account can even get email from strangers. Clearbit Connect will let you fix that issue if you want to know everything about the recipient. Although it doesn't display "everything" but you can find something using Clearbit Connect add-on. It adds up an additional tab on your right-hand side so that you can gather information about the sender or the company. This addon is merely awesome since you do not have to open Facebook or any other social networking site to get to the sender.
5. Sortd
Sortd is another very useful and visually inspiring Gmail add-on, which is designed for GSuite account holders. Or, if you have a @domain.com email address instead of @gmail.com, you can use this extension. It comes with such restriction since it is designed for business purpose. Talking about the workflow of this addon, you can find it very useful when you need to check tons of email within a little span of time. It creates a Kanban board so that everything gets sorted with Sortd. You can create a list for your task, choose next action based on the email and so on. This is available for free. However, if you want to use some premium features, you can purchase it for $2 per month.
6. Gmail Offline
As the name defines, Gmail Offline addon helps you read Gmail messages even when you do not have any internet connection. Although you cannot reply to any email, you can indeed read your essential email on the go. This is quite useful when you are traveling abroad, and you need some time to get a valid internet connection. This tool is built by Gmail itself. Therefore, there should not be any compatibility issue while using this tool. The best part of this tool is, although you don't have the right to send email without an internet connection, you can write down the reply. This addon will send out all the emails as soon as you get the internet connection. So that you do not forget about any mail at any cost.
7. Boomerang
Boomerang is yet another awesome addon for Gmail that is made to do only one task. You can schedule the email to send it later with Boomerang. This is a business class addon that is used by thousands of well-known companies out there. After installing this addon, you can find a Send Later icon right below the Send button. You need to use that button to set a date, time, etc. This is useful when you want to wish someone on his/her birthday or something like that.
8. WiseStamp
Although Gmail lets you include your signature in the email, WiseStamp will do more with the same functionality. Not only just text signature, but also you can include social profiles, important brand information of your company, and more. The highlight of this tool is you can customize the signature as much as you want. Another useful feature is you can include your photo so that a stranger recipient can know everything about you.
9. FollowUp CC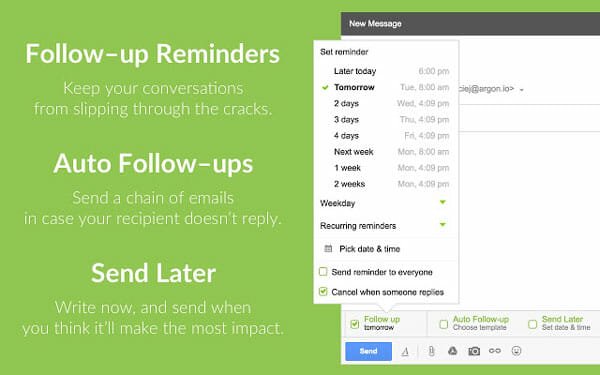 FollowUp CC helps you set reminders, get email tracking, add auto follow up, get contacts checkup, boomerang, and email snooze. More specifically, you can snooze an email for as long time as you want. On the other hand, it adds up an auto follow up so that you can forward the email correctly or know who to forward the mail. Apart from that, you can set a timer to send an email. It works same as the Boomerang add-on for Gmail. The last but not the least option helps you track email whether the recipient has read your email or not. It helps any PR or a regular person to know whether their emails are getting ignored or not.
10. Mailstrom
Mailstrom is one of the best Gmail add-ons out there, which helps you manage your email accounts in a better way if you are getting hundreds of email every day. It can access your email account and categorize them automatically. You can find different categories like time sent, email size, and much more after installing and synchronizing your email. Talking about the price, you can get it for free for up to 5000 new email. If you get more emails than that, you need to purchase the PAID version, which costs $4.95 per month.
As mentioned earlier, there are more other Gmail add-ons for you in Chrome Web Store. However, these add-ons are well known, feature-rich, and very useful for any user.