Music is loved by everyone and we have all sort of music in our mobiles and desktops. Apart from saving music files, we can also choose online streaming of music. There are many apps available for streaming of music. We will take you through best music streaming apps for Windows 8.1 which are also supported by Windows 8.
Mix Radio
Windows Mobile has Mix Radio Music App from the beginning. Windows 8 and Windows 8.1 are the latest updates for Windows Mobile. Now, Windows Mobile users need to subscribe to access it. If you already had the subscriptions, you can log in to it from mobile or desktop. You can stream available 20 million tracks from mobile, tablet or laptop.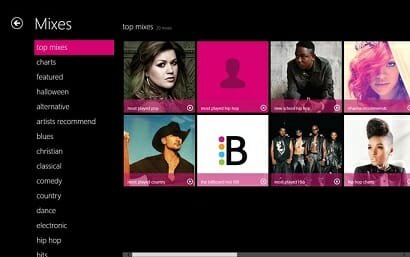 You can even download tracks which you want and can view from offline mode. This is said to be the best music streaming apps for Windows 8.1.
iHeartRadio
iHeartRadio Music App for your Windows 8.1 lets you stream over 1,500 radio stations which are live. Among many music streaming apps for Windows 8.1, this offers all-in-one music for free. It allows you to create custom radio stations which can be commercial based on your artists and music interest.
You can get access for 4000,000 artists and over 15 million songs. Use the Discovery Tuner available in iHeartRadio to play music in every variety.
Deezer
Deezer Music App allows you to stream online music on all of your devices. You can search, share and enjoy music with anyone, anytime and anywhere. It allows you to create your own library and playlists from the available overall 20 million tracks. Tune to radio channels based on themes and based on artists.
Deezer does not support offline mode in Windows, but developers are trying hard to get in offline mode.
These are best music streaming apps for Windows 8.1. If you have any more to add, please do share with us through comments.