Best Music Streaming Apps for iOS to Listen to Songs
Although Android has more free apps than iOS, it comes with a lot of useful apps as well. If you often listen to music or songs, you can check out these best music apps for iOS. These apps are not only a music player, but also, they come with a lot of songs you might like to listen to. If you install any of these apps, you might not have to install any other music apps to opt for any offline music library to get new songs. Also, you can find various categories so that you can find the best music you love. Being said everything, you should have valid internet connection to utilize these apps. On the other hand, not all of them are available for free and hence, you need to opt for a paid subscription to get all the options.
Best Music Streaming Apps for iOS
1] Apple Music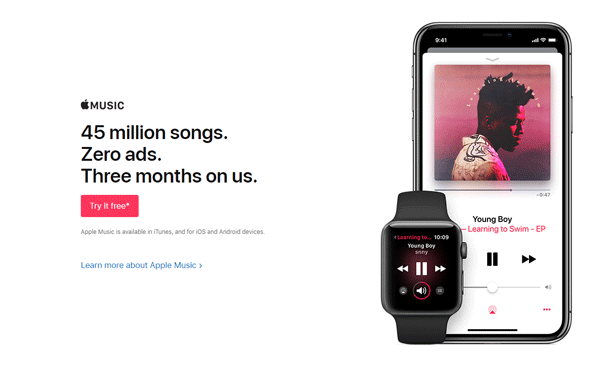 If you read this few months ago, this list could have been different. However, after the launch of Apple Music, everything has become different. Apple Music is one of the best music streaming apps for iOS. Although this is a cross-platform app available for Android as well, Apple Music seems to be awesome solution for music lover if they are using iOS device. According to the official statement, more than 45 million songs are enlisted in Apple Music and that is what makes it unique. Apart from having an INDIVIDUAL plan, it comes with a FAMILY plan that can be used by up to six different people. The pricing of Apple Music is quite affordable. The STUDENT plan costs around $4.99/month. The INDIVIDUAL plan is priced at $9.99/month. The FAMILY plan costs around $14.99/month.
2] Amazon Music
Amazon Music is probably the newest app on this list. Almost a year ago, Amazon launched PRIME subscription. If you have Amazon Prime, you can access Amazon Music for free and that is the advantage of having this app. This music app comes with a huge collection of different songs. As per the official statement, Amazon Music has more than ten million songs. On the other hand, you can download your favorite songs so that you can listen to that offline. Apart from that, you can stream weekly new releases, explore curated playlists and stations. The best thing about this tool is it is completely ad-free and that means you do not have to wait for the SKIP button after 5 seconds of advertisements and so on. If you already have some songs on your iOS device, you can play them as well. In case you do not have the Amazon Prime subscription, you can purchase a subscription for $7.99/month. Regarding availability, you should have iOS 10.0 or later version to install the Amazon Music app on your iOS device.
3] Spotify
There is no doubt that Spotify is an awesome music streaming app for iOS. Although it is available for multiple platforms including a Web Player, the iOS version looks much better than others. Listening to music, downloading favorite one, skipping unlimited are some of the essential options included in this app. The audio streaming quality of Spotify is pretty good and you should not find any problem while using it. The best thing is it doesn't require a high bandwidth internet connection to stream audio from Spotify. However, not all the features mentioned in the above are available for free. You need to purchase a subscription to get them all in your mobile. Talking about the user interface, Spotify comes with a neat and clean UI that you will love for sure. All the necessary options are visible right on the screen and therefore, you should not confront any issue finding an option. Regarding compatibility, you should have iOS 10.0 or later version.
4] SoundCloud
SoundCloud is another free music streaming app available for iOS. If you want to install, make sure you have iOS 10.0 or later version. The user interface of this app is pretty good and that is the main attraction besides the collection of music. According to the SoundCloud developers, they have more than 120 million songs and everyday people are uploading new songs on their own. There are two versions of SoundCloud. The FREE edition has these following features:
Over 120 million tracks from emerging and established artists
Get suggested tracks based on your likes and listening habits
Discover incredible music in each genre with SoundCloud charts, from all-time greats to the newest and hottest tracks
Connect with friends and interact with your favourite artists directly
Create playlists for parties, workouts, on the way to work, or whatever mood you're in
The SoundCloud GO version has the following features:
Discover, stream, and share a constantly expanding mix of music anytime, anywhere
Over 120 million tracks from emerging and established artists
Take your collection offline, everywhere you go
No ads, for an uninterrupted listening experience
The GO edition costs around £7.99/month.
5] YouTube Music
YouTube Music is yet another awesome music streaming app for iOS devices, which is very much affordable and it comes with a huge collection of awesome songs and audio files. Although YouTube music is not available in all the countries across the globe, you can access it in the USA, Australia, New Zealand, Mexico, and South Korea. The official YouTube Music app looks pretty awesome on iOS device since it comes with all the essential options those can handle your library with ease. Finding trending music is easy and not time consuming too and that is the reason, why people are loving this tool right from the initial days. Regarding pricing or subscription, you have to pay $9.99/month. Like Apple Music, you will get FAMILY option as well that costs around $14.99/month. Regarding the availability of this app, you should have iOS 9.0 or later version.
These are some of the best music streaming apps available for iOS. Almost all of them are paid and that is one of the reasons why they are outstanding. You can always try out the trial version of those apps. Following that, you can decide which one is best for you.