Best Surge Protectors To Charge Your Electronics Gadgets
No matter where you live in the world, you must have faced surges in the electric current problem while charging mobiles, using computers, or so. A surge protector can help you in such situations by managing the surges. If you are looking for a surge protector to charge your electronics gadgets safely, you should check out this list.
A surge protector or surge suppressor looks almost the same as a power strip, but it works differently. A standard power strip or extension cord doesn't have much power during a problem, whereas a surge protector can protect your expensive devices from being ruined. In the USA, 120V is the standard voltage, and in India, it is 220V. If your standard device like mobile, laptop charger, etc. gets more than that standard voltage, there might be some damages.
Take it differently. Let's assume that you can eat only one standard size burger, and someone forced you to eat ten. The same thing will happen with your devices when they get pushed to receive more voltage than the standard rate. Funny, but it is what happens every day with countless people across the globe.
Therefore, if you have some expensive devices like mobile, laptop, desktop computer, etc. and you do not want any problem while giving them power, you should buy a surge protector.
Best Surge Protectors For Everyday Use
1] Belkin 12-Outlet Surge Protector – $40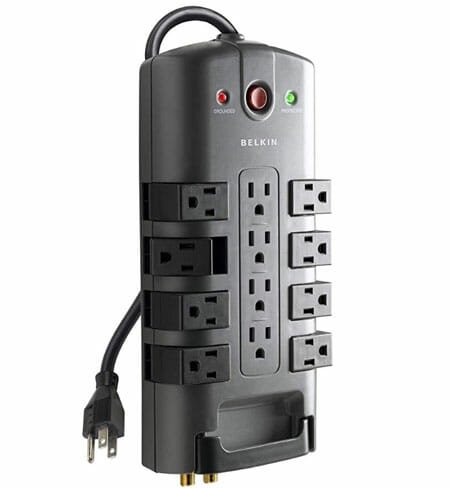 This surge protector is a little bit expensive, but you won't be disappointed after using it in your home or office. As the name says, this 4320-Joule surge protector has 12 outlets so that you can create a hub in your home to charge everything. It comes with an 8ft cable, and that might help you in some way. It looks quite promising, but some people are not happy with the build quality because of the plastic they use to make it. It also has an 8-outlet version with 1800 Joules of surge protection. Both products have two indicators for "grounded" and "protected." Check the deal
2] Belkin F9E600Zb2Mgry Essential Series 6-Socket Surge Protector – $22
Belkin is a popular name in the electronic appliance industry, and they have this handy yet straightforward product called Belkin F9E600Zb2Mgry. It looks simple and something like regular power strips, but it is a surge protector and has all the required equipment built into it. It has six outlets, 3-line protection, and other security features. However, the only problem with this surge protector is that the power cord length is very short. Check the deal
3] APC 11-Outlet Surge Protector – $25
No matter how many devices you have, you can use this surge protector for your benefits. As per the name, it comes with 11 outlets to help you with all the things. This product looks fancy, and you should not have any issues while using it for an extended period. It has 3020 Joule of surge protection so that your devices do not get burst due to any problem. On the other hand, it includes an 8ft power cord, safety shutters, etc. The best thing about this tool is that you can find three indicators, i.e. surge protection working, overload, and wiring fault. Another important thing is that you can find Co-Axial Protection against Power Surges. Check the deal
4] Belkin 8-Outlet Power Strip Surge Protector – $17
This surge protector is comparatively cheaper than the other two Belkin products, but it does a pretty good job. The best thing about this product is that you can find different variants so that you can select how long your cable should be or how many outlets you need, etc. Like a standard surge protector, it has two indicators, and one of them shows you if the protection is working or not. This product has 2500 Joule of surge protection so that users can use it for reasonable purposes such as charging mobile, laptop, etc. As it has a long power cord, you should not face any issue while giving it power supply. Check the deal
5] AmazonBasics 6-Outlet Surge Protector – $11.49
If you need a cheap surge protector and you do not want to spend much money, you can check out this AmazonBasics product. It comes with six outlets alongside 200 Joule of surge protection. This product is not fancy, but it does the job without any problem. As usual, you can find the protection enabled indicator included in it so that you can understand if it is working or not. The major problem with this surge protector is that it has only a 2ft long power cord. In other words, if your wall outlet is far away, this product might not be very suitable for you. Check the deal
6] Lovin Product Surge Protector – $28
It is probably the unique looking surge protector, which has 14 outlets and a maximum of 3000W of protection for your home as well as office. No matter whether you want a surge protector for your computer or mobile, you can use it without any problem. Not only the 14 outlets, but also it has 4 USB ports so that you do not need to plug in your mobile charger to charge your phone. The next big thing is that you can find a 6ft long power cord. The last but not the least thing is that you can get a handle to carry it from one place to another. Check the deal
Can I Use Normal Power Strip With Surge Protector?
The answer is debatable since it is never recommended to create a chain using extension cords – be it a surge protector or regular power strip. No matter how expensive your surge protector or power strip is, you should not create nested cords.