Best Tools to Backup Driver in Windows 10/8/7
When you install new hardware, it comes with a driver. For example, if you install a new graphics card, you should install the corresponding graphics driver. Otherwise, it won't work smoothly and properly. However, sometimes, you may need to install a fresh OS. After that installation, you need to install all the required drivers so that you can work properly on your computer. If you can create a backup of your drivers before installation, you do not have to download them from the internet again (if you do not have the driver CD that comes with the motherboard). Therefore, to fix that problem, you can check out these tools to backup driver in Windows 10/8/7.
Best Tools to Backup Driver in Windows 10
1] DriverGuide Toolkit
When you need simple options to backup drivers and do other stuff related to your installed drivers, you should take a look at DriverGuide Toolkit, which is free software available for Windows operating system. You can download it for Windows 7 as well as Windows 10. The main thing is it does all the jobs pretty well and without any lag or anything. According to the official statement, it can detect more than 1 million different drivers installed on your computer. On the other hand, more than 500 new drivers are added every day to the database. Although it sounds pretty unrealistic, this is what they say about their software. This is quite easy to get started with DriverGuide Toolkit, and you can store the backup anywhere you want. Also, it doesn't take a huge amount of time to backup everything. Another essential feature of this software is you can check available updates using this so that you do not miss anything in your busy schedule. Talking about the price, you can download it for free. However, a paid membership that costs around $15 will unlock all the possible functionalities.
2] Double Driver
Double Driver is probably the easiest to use and simplest app available in the market in this category. This simple tool is available for Windows operating system at no cost. Although you may not find any configuration options or any help from the developers, you can get an awesome user interface and one option to backup all the installed drivers within moments. You can choose either all the drivers or a single one to backup. On the other hand, you can select save path (or move the backup anywhere you want). Apart from that, this is possible to create backup in ZIP or EXE file. Talking about the user interface, it has a simple, neat and clean UI that you will like for sure. The most important thing about this tool is you can backup drivers from a non-booting Windows as well.
3] DriverMax
DriverMax is another simple software that does pretty much everything that a driver backup software should do. Being said that, you can backup all the installed drivers within seconds, update your drivers automatically, get exclusive security for your backed up drivers and so on. When you have installed a lot of drivers, but you do not have time to check for updates regularly for security patch or something, you should utilize an app to do that. DriverMax is a perfect tool for you when you need to get started with backup and update drivers. Although there is no official statement about the compatibility with different driver detection, it has detected all the drivers installed on a regular computer user. Regarding price, this tool is available for free, but you can unlock all the functionalities by purchasing it for $14.51.
4] Semper Driver Backup
Semper Driver Backup is a free utility available for Windows XP and all the later version including Windows 10. Although this is pretty old software, it does work smoothly on the latest version of Windows. Talking about driver backup, it does that job pretty well and without any lag or anything else. You do not have to spend a lot of time to get things done because of the smoothness provided by this tool. You can move the backup anywhere you want including an external driver. However, the only disadvantage of this tool is it doesn't check for updates. Although it is not a setback as other tools are doing this, you can count it.
5] Slim Drivers
Slim Drivers is a multi-functionalities based Windows software that helps you do various things including backing up drivers. If you install this software on your computer, you do not have to look for any other tool to check updates or anything like that since it does all those things easily. As mentioned earlier, Slim Drivers is available for free. However, you can opt for the PAID version to get all the unlimited options. Talking about the compatibility, you should have Windows XP or a later version. Being said that, this is available for Windows 7, 8, 8.1 as well as 10. The advantage of using this tool is the response time. It can check for updates and backup drivers within moments. It doesn't matter whether you have five drivers or fifty, you can back them up with ease.
6] Driver Magician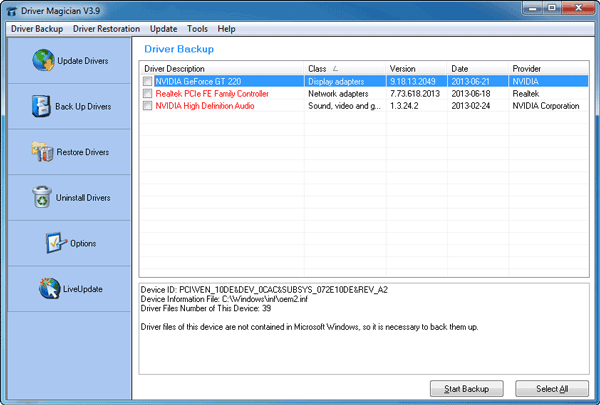 Driver Magician is one of the best tools out there that can create a backup of your drivers. No matter whether you are using Windows XP or Windows 10, you can certainly backup all the drivers installed in your system. This software comes with the option called device driver backup; driver restores driver update, driver remover, and more. The interesting this is you can backup documents as well as the desktop with the help of this tool. On the other hand, you can clone drivers and put them in a .exe file. However, for all these, you need to purchase the PAID version of Driver Magician, which costs around $29.95. If you do not need all the mentioned in this list, you can opt for the FREE version.
That's all! These are some of the best driver backup tools for Windows. You can check each one of them to know which one works best for you.