Best Video Journal App for Android – Relive Your Life
The year end is almost upon us and with it comes the annual routine of creating new good habits and foregoing old bad ones. I have decided to start recording my daily activities in a diary. Since I use OnePlus which is powered by Android, I thought I would go for a video journal that is available on the playstore. Makes it more lively and beautiful. But, how do you know which is the best video journal app for Android?
Answering this question was trickier than I initially thought. So, I decided to create this small guide that will help you choose the best video journal app for you, because, there is no one size fits all solution out there. It all depends on what features you want or do not want. Let's begin.
1. Journey
One of the most highly rated and feature rich freemium daily video journal app for Android, Journey, aptly named, will help you log entries in text and media format. You can pour your heart in words, capture beautiful photos and shoot videos to create the perfect journal entry.
What else makes it the one of the best video journal app for Android, you ask? It is so much more than a video journal app. Apart from the different formats in which you can create daily entries, you can also share these entries on social media right from within the app on your favorite platforms like Facebook, Twitter, and Instagram.
Journey app will automatically capture weather and location information so you can know, in an instant, where the entry was created. There is an atlas option which creates a beautiful and intuitive world map for you to revisit the memory lane. There is a calender built-in so you can visit a specific day in the past, think special occasions, to relive the moment. It will also send you daily reminders at the time you have pre-set, so you never forget to update your journal.
You can add tags, your mood, and activities in a jiffy. You will feel the real power of this app once you start using the app and have a bunch of entries to shuffle through. All your entries are passcode protected and backed up on Google Drive in case you lose your smartphone or break it.
The app is free and comes with some premium addons. You can upgrade for a one time fee to get the whole package for life that includes import/export, markdown, and night mode. I mean, there is no price high enough for memories, right?
Video journal app for Android users is a must if you are traveling and need everything organized by date, location, tags, and even mood.
Taking to the spirit of cross platform compatibility, Journey is available for AndroidWear, computers, Android powered smartphones and tablets and laptops. This is the perfect alternative to the popular Day One app that will only available for iOS.
Download: Android
2. Vidiary
Vidiary, just like Journey, is a simple to use feature rich app that will help you record your life one day at a time. Looking back at time, you will find this collection to be an amazing way to relive your life. This is what makes Vidiary another one in the list of best video journal app for Android.
You can choose to either share your videos on different social media platforms like Facebook, Twitter, and Instagram or you can keep them private depending on your preference. Vidiary is simple to use with the video entries displayed in order of date. In case you decide to delete an entry, you can also visit your deleted video logs. You can add title and description to your videos which is a way of describing your day and the event captured in the video. Passcode protection is there, and the UI is alright. It is, however, not as powerful as the Journey which is why it falls to number 2 position.
Keep in mind that the videos that you are recording will be visible in your Gallery, which renders the passcode feature somewhat redundant. This is not the case in Journey app making the latter, the best video journal app for Android.
Download: Android
3. Video Diary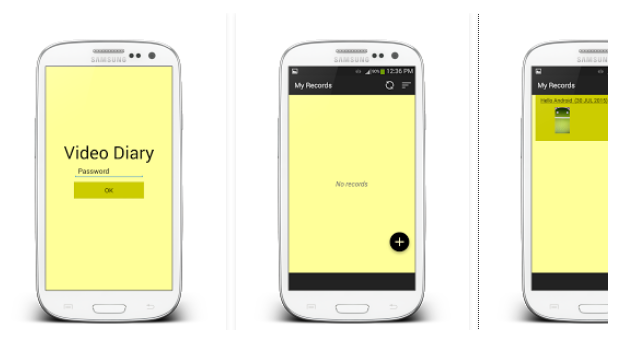 The last one on the list of the best video journal app for Android, Video Diary falls comfortably at number 3 position. Every video that you create in the app will be simply logged in day wise. There is no description option available at the time of writing this review, however, you can create tags and enter a title to explain what the video is all about.
You can create a back up locally using a zip file but no cloud option is available. There is a passcode option also available. There is an additional option where you can mark your entries as favorite to show it in a separate tab.
Download: Android
So, which diary app are you using and why? Do you know of any other video diary app that you think is good enough? Let us know in the comments below.