Priv By BlackBerry Gets Launched In India At An Outrageous Price of ₹62,999
One of the things that were most talked about in 2015 were the refreshing comeback of the Canadian Mobile Giant, BlackBerry into the smartphone market. Even though the company did offer better solutions in the enterprise sector, it couldn't get much sales in a world dominated by Android and iOS due to limited number of audience. Better late than never, the company had adopted Android Operating system as a software and released it's first device with that, BlackBerry Priv, meaning privilege and privacy. And to the surprise, actually got nice reviews.
In the words of Forbes,
"The Priv may come too late to save BlackBerry, but it's exactly what BlackBerry needed. It's also exactly what Google needed: a phone designer brave enough to make something physically different and skilled enough to prove Android can have great security – when handled right. The Priv is the anti-Galaxy, and all the better for it. If this is the end for BlackBerry, it's at least a poignant way to bow out…"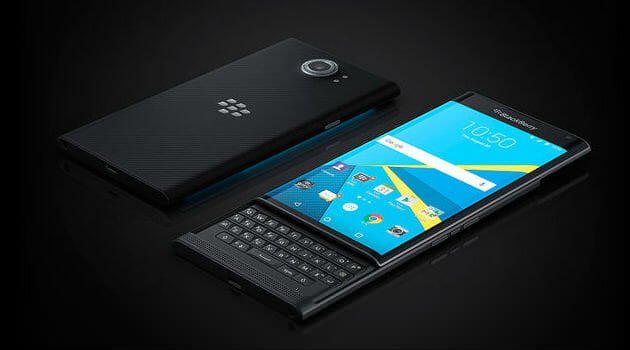 The good thing that BlackBerry did and fortunately which got worked out was, it took Android platform as OS and while not damaging the stock experience as best as possible, they've included the best features in BB10, their own version of software.
DTEK, the security mechanism which works like a treat alarming you every app install you do in your device (which the BlackBerry is good at)
BlackBerry Hub, a one stop point for all your notifications (mail, social, system etc)
A Slider keyboard – Which gave a refreshing experience altogether to the users with it's own shortcuts which make the typing experience easy,smooth and bigger view of the display. For who doesn't like a touch screen typing, this device will get you covered. It has a touch screen keyboard too, for regular people.
Along with them, the default things you would find like gestures, launcher settings and swipe shortcuts are there anyway. (Related: Deep Look At Priv Features) All these with some high end specs and solid hardware gave birth to Priv. This device got released in India at a steep ₹62,999/-.
Narendra Nayak, BlackBerry's India head said to Indian Express that the idea was to appeal to Android users who are facing a lot of "device fatigue" from devices that are very similar in nature.
Clearly, BlackBerry wants Priv to be in Premium devices club. Even though Priv has got potential to be right up there with amazing features and great specs (take a look at them here), at the end of the day, the fact we all need to agree is that Indian Smartphone market is predominantly ruled by budget oriented smartphones. In India, as everybody knows, the richie rich people are leaning towards Apple/Samsung flagships. That said, Priv isn't the last thing for BlackBerry and it couldn't be. The company is already planning to release more devices backed by Android Operating System(Also see: BlackBerry Vienna) and we may expect a mini version of Priv too, in coming days. Atleast for now, Priv, though with great specs is far from reach for an average Indian customer.
According to the Source, the Phone will be available in all channels starting January 30, 2016. Let us hope the best works for BlackBerry.