Most of us will be irritated due to game requests. We will be getting many game requests per day and we just clear notifications. Most of our friends keep on sending these game requests and most of them I get are "Candy Crush Saga". So, I took a while and came to know that there are 2 new ways to block these game requests.
Most of them are not aware of how to block game requests on Facebook. There are two easy ways to block game requests on Facebook. I will take you through those two ways step wise and from now on use these ways to block game requests on Facebook.
Method 1: Notification bar has an option to Turn OFF the App Requests
Whenever you received a game request, then click on the notification icon. You will see a cross mark beside the request.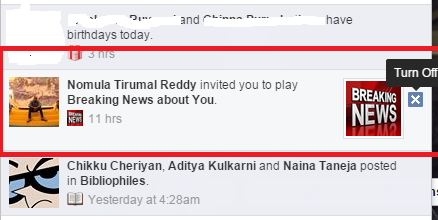 Click on this cross mark and you will be asked to "Turn OFF" or "Keep On". Choose to click on the button "Turn OFF".
Once done, you will be shown that no notifications will be received from these game as requests. This is the confirmation from the game.
Follow this method not only for games, but also for every app.
Method 2: Every App has a "Block" Option
You can block the app, if you do not want to receive the notifications from that game or app further. This will be seen in this second method to block game requests on Facebook.
Login to your Facebook and on the left side, go to Apps section. In that, click on "Games" option.
Games page gets opened. You can search for the required game through the search box on the top right corner. Do not use Facebook search for this.
Click on the game you want to block and on the bottom right, you will see "Block" option. Click on it.
Now, confirmation box appears for your confirmation. Click on the "Confirm" button and from now on, none of your Facebook friends can send you requests for this game.
These are the two best ways to block game requests on Facebook. Use these ways and please do share your feedback through comments.