Do you get a lot of application invites from your Facebook friends? In general, when any of your friend tries or uses an application on Facebook, there is an option to recommend the application to their friends. Some of them may recommend the application to you which in turn will send an application invite to your Facebook profile.
The problem with Facebook apps is that they clutter your News feed to a great extent. Sure some of the apps are really interesting and useful, but not all of them are required all the time. Applications like RSS graffiti, networked blogs, and Food gifts will push frequent updates in your wall or news feed which is heavily distracting.
If you want to hide all the Facebook application invites, games, quizzes or delete them from your news feed – follow the simple steps mentioned below:
1. Log in to your Facebook account and click on Account > Privacy Settings
2. In the next page, you will see various settings for websites, games and other applications. Scroll down to the bottom of the page and select "Edit your Settings" under "Applications and Websites"
3. In the next page, you will see all the currently active applications you are using. Click "Turn off Platform Applications" and choose all the active Facebook applications you want to block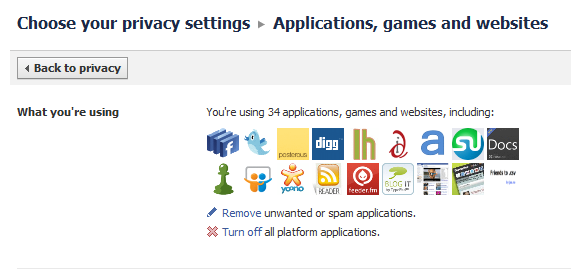 4. Next, click on "Turn off Platform" and bingo! All the Facebook applications are removed forever.
Now, you will neither get any update when any of your friends use a Facebook application nor you will be disturbed with any of the invites. Please note that if you are a developer of any Facebook application, you won't be able to deactivate the "Facebook developer application". This will not allow you to disable platform updates of Applications and websites on Facebook.
And disabling the platform applications will also disable the social plugins you are using (e.g Liking Facebook stories).
More tips:
1. How to make Facebook photo Albums private
2. How to delete a Facebook account which is impersonating you
3. Access Facebook When Blocked in Office, school or Workplace