Bluesmart – The carry on Suitcase with Location Tracking
Have you ever thought a trip without luggage? NO. That is impossible. There are many people who often forget to carry their luggage while going to travel. Although, there are tons of suitcase or travel bag manufacturers such as Louis Vuitton, Ralph Lauren, Alfred Dunhill and many more but none of them doesn't provide any security as Bluesmart does.
Introducing Bluesmart
Bluesmart is a carry n suitcase for travelers who often forget to carry their bags. Bluesmart is not like other regular luggage bags since this is digitally made and technically very strong. Bluesmart is perfect for tech savvy travelers.
Features of Bluesmart
As mentioned above Bluesmart is not like other bags, here is a brief demonstration of the features that you would love to have.
Digital Scale
This is the first brilliant feature of Bluesmart. You know that different airlines have different weight limitations. You supposed to have less weight to get approved by the airline checking while going to travel. That is where Digital Scale comes in. It will help you to know whether your bag has less or more weight than usual. You can get this on your mobile.
Location Tracking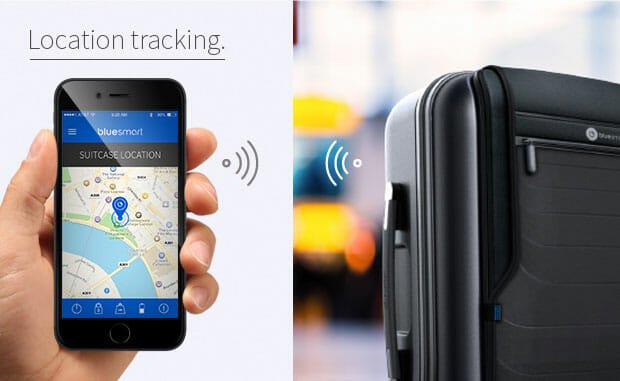 Holders cannot lose their Bluesmart bag since it can send all the geo data to the authorized mobile. This is as smart as written here. You will always have last location of your Bluesmart bag on your mobile.
Distance Alert
Bluesmart gathers all kind of location information. Bluesmart has a proximity sensor and hence you will get notification whenever you will be away from your Bluesmart bag. Your luggage bag will send an alert on your mobile.
Trip Tracker
Even the wheels of Bluesmart has sensor that would help you to track your trips. No matter, wherever you go with your Bluesmart suitcase, your bag will keep gathering all the information. This information will be shown in a graph. Thus, you will get better tracking information. The second most interesting thing is you can get all notification about your flight or train or anything that can be tracked.
Mobile Charger
Bluesmart suitcase has a 37 Watts lithium ion battery, which will help you recharge your mobile, tablet very faster. Don't worry, this is safe.
FAQ to know more about Bluesmart
Actually, all the most essential information has been mentioned above. However, here are some frequently asked questions to know more about the Bluesmart.
How does Bluesmart track and show reports?
Bluesmart comes with a handy mobile application that is available on iOS and Android (as of now). You can get the app along with your digital suitcase. All the information aka reports are tracked by the Bluesmart and shown on the app.
Is it possible to carry my gadgets?
YES. This is possible to carry some gadgets such as tablet, laptop etc. with your suitcase.
Is Bluesmart fine with aitport security?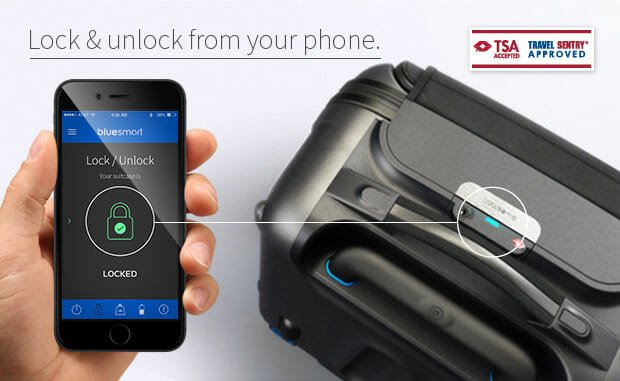 Bluesmart is TSA accepted or Travel Sentry Approved. That simply implies that you should not have any security issue in the airport. The bluesmart authority has used the suitcase in various airports in the US, UK and other European countries but they haven't got any problem.
What is the dimension and weight of Bluesmart? (Without personal stuffs)
This bag looks like other regular suitcases. The dimension of Bluesmart is 21.5" x 14" x 9" (including wheels) and the weight is 34L.
How much Bluesmart costs?
Bluesmart was available at various price range but now there are some limitations. You will have to spend at least $330 to get a personalized Bluesmart suitcase.
Bottom Line
This suitcase is much different and better than other regular suitcases. This is covered with some technical stuffs. The price is also reasonable.
What do you think about this smart suitcase?