BSNL DataOne broadband and MTNL Triband are the most used fast internet connections in India. Users subscribed to limited data usage plans need to log in to their portal websites regularly to keep track of their usage. The process is an unavoidable overhead in our daily routine. But not anymore.
Datafox is a Firefox and Google Chrome extension that can show your usage stats with just a single click. Follow the steps below to set up the extension.
1. Download the extension for Google Chrome or Firefox. After the installation is complete, you will find its icons as shown in the screenshot below.
2. Start the extension by clicking its icon.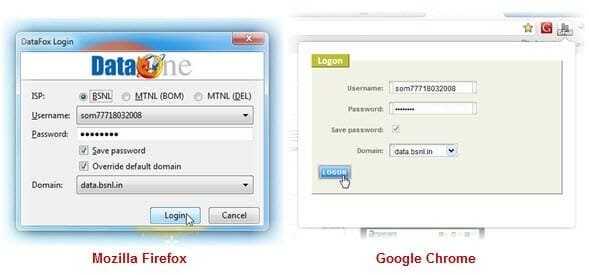 3. Now enter your portal ID and password and then choose the domain as "data.bsnl.in". Once that is done press the Logon/Login button.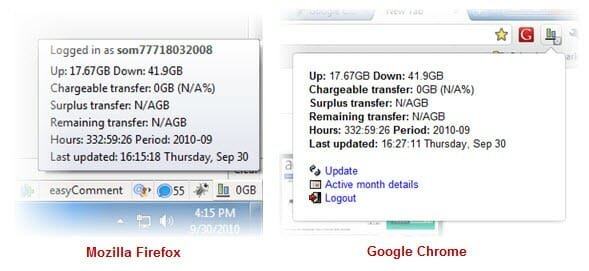 4. All set, wait for some time as the service log in to your portal. Now click/hover(for Firefox) on the icon again to see the usage stats anytime you choose.
The extension can be further configured to set up usage limits. To do that right click on the icon and choose Preferences (for Firefox) or Options (for Chrome). You can also check the usage stats for the last six months (including the present month) in the Firefox version.
The above demonstration is shown for BSNL Portal services. You can also try and configure it for MTNL. Luckily, I am no more in the limited plan anymore. However, I guess anyone who are still (in the limited plan), will be greatly benefited by this add-on. Let us know your remarks about this simple yet useful browser extension.