Techsmith Camtasia Studio – one of the best programs to create video screencasts will be releasing their latest release – Camtasia Studio 7 in a few days from now [30th March, expected]. (link)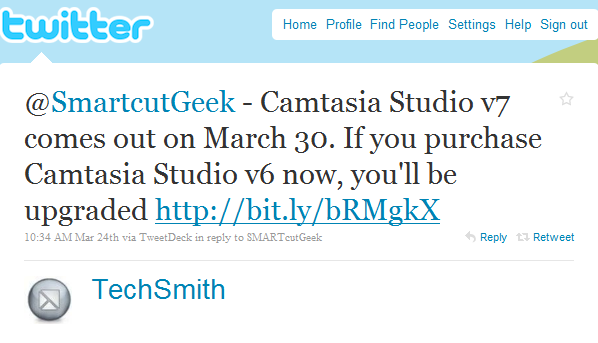 Upcoming Features in Camtasia Studio 7
Support for YouTube: Camtasia Studio 7 will add support for YouTube videos, so you can record a screencast and directly upload the video in your YouTube account without leaving the desktop client. This would make sharing easy, as you can record a video and share it instantly on your social circle.
Keystroke callouts: Camtasia Studio 7 will also add support for keystroke callouts, thus making your keystrokes visible to viewers. That means, if you hit a key combination while recording a screencast, the program will display a graphical overlay in the video so that the viewers can understand which keys need to be pressed.
The keystroke callouts would be automatically added to your screencast and you can change their styles, position and effects later on. Here is a quick video screencast which shows the keyboard callouts in action:
New Cursor effects: Editable cursor effects are expected in Camtasia studio 7. This would turn your mouse pointer into a spotlight and the viewers can follow the screencast by enlarging the mouse pointer. Also, the mouse cursor would have it's own dedicated track in the timeline and you would be able to control how the cursor behaves and appears in the timeline.
Check this small screencast to understand how cursor effects are introduced in Camtasia Studio 7.
Other features include more callout effects, motion callouts and improved styles. With the addition of motion call-outs, you would be able to add animated shapes that appear to be hand drawn right into the video.
Those who are using older versions of Camtasia studio (e.g Camtasia Studio 6, 5) will be automatically upgraded to the latest release.
Just can't wait for Camtasia studio 7 to be released and try it on my own. Check out the Visual lounge blog for more updates and release notes.