How to Cancel Apple Music 1 Month Free Trial Subscription
Apple owns the smoothest and most useful OS for mobile and tablets called iOS. Few weeks ago, Apple launched a new music streaming service called Apple Music. Apple Music is a premium music streaming service with a huge marketing advantage for Apple. Nowadays, people are addicted to music and meanwhile Apple's Music app has gained 11 million users in just one month. That simply implies how much popularity Apple Music has started gaining.
As Apple Music offers a 1 month trail for the new users, anybody can head over to this online music streaming service. That is another reason, why Apple has got more than 11 million users from across the globe within a month. You can explore different types of music based on your subscription. There are mainly two types of subscription i.e. individual and family. If all of your family members use iPhone or iOS, you can simply purchase the family subscription, which comes at cheaper price as compared with individual subscription.
How to Cancel Apple Music 1 Month Free Trial Subscription
However, after 1 month trial period, the Individual plan holders have to pay $9.99 per month, when Family membership account holders have to pay $14.99 per month. That is cheap and affordable. However, if you think Apple Music is not for you and you are happy with the default music app and music, here is a small tips that will let you cancel Apple Music 1 month free trial subscription.
If you do not cancel the Apple Music subscription, Apple will deduct $9.99 automatically to continue the service. Therefore, if you do not like Apple Music and want to stop wasting money on this service, you can easily cancel the subscription. No money will be deducted after cancelling.
To cancel Apple Music 1 month free trial subscription, you have to mainly disable the Auto-Renewal. If Auto Renewal is turned on, Apple will keep deducting your money from your Credit Card that is linked with your Apple ID.
You can turn off Auto Renewal from iPhone, iPad or iPod Touch as well as Mac and PC.
Cancel Apple Music Auto Renewal From iOS Device
It seems really easy since Apple Music doesn't contain a lot of complicated options. Just open Apple Music app and tap on your profile icon. This Profile Icon generally positioned on your top left corner of your screen. Now, tap on View Apple ID to reveal the Apple ID that is linked with your Apple Music subscription.
Following that, you will get some options to change Country, Ratings, Family Sharing etc. In the bottom, you will get an option called Manage. This will be positioned under Subscriptions menu.
If you have one membership, you will get a window with Apple Music Membership. But, if you have multiple memberships, you will have to choose the membership that you want to stop auto renewal for. Generally, first time users do not have to choose the subscription because they have only one.
Now, tap on the Automatic Renewal button that is positioned under Renewal Options. You will get a popup. Just select Turn Off.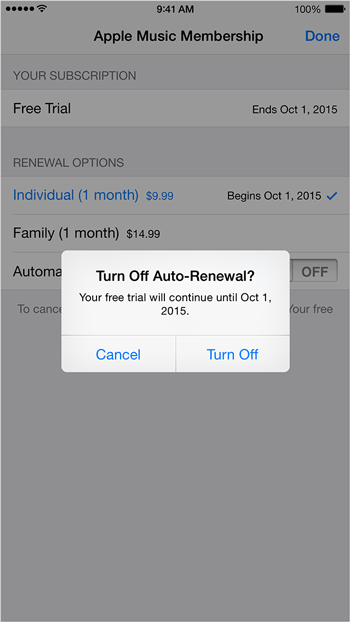 That's it! Your auto renewal will be canceled immediately.
Cancel Apple Music Auto Renewal From iTunes
As iTunes can be installed on Mac and PC, you can use this method as well. The same above-mentioned thing can be done using iTunes too. To do so, open iTunes, click on your Name and go to Account Info.
Under Settings, you will get Subscriptions. Click on the respective Manage button on your right hand side.
You will get your Apple Music subscription info on your screen. Just select Off for Automatic Renewal and hit the Turn Off button.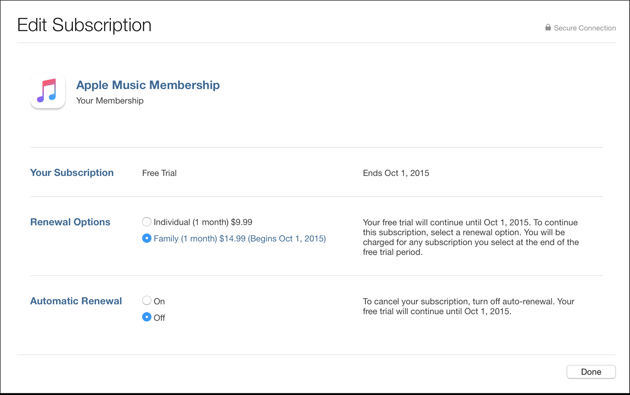 That's all!
Final Word
Apple Music is really a useful online music streaming service. But, if you do not like this, there is no need to pay $9.99 per month. Rather than wasting money, you can simply turn off automatic renewal and hence it will turn off your Apple Music membership.