Whenever we go to shopping, we prepare a list at home and take that with us. Some items may not be available at one store, we have to go to another. We need to check the items we bought, and search for new items. Many times, we miss items we want to buy from the list or we may forget even listing some items. If that item we forgot is of major importance, we are in trouble now.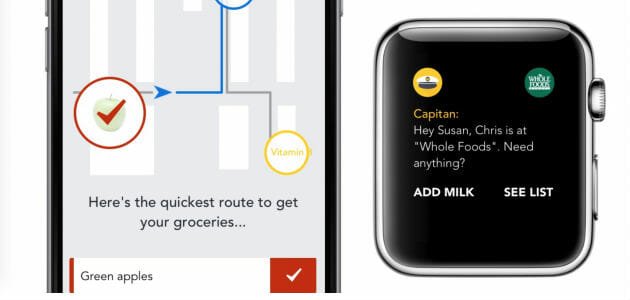 If you face this problem often, don't worry, we have a solution for your problem. Meet Captain, an intelligent app for your smartphone or smart watch that helps you to save lot of time and money at the grocery store.
Even though there are many list apps available at the market, Captain's not an ordinary listing app. It has got unique features.
It will let you to create lists of items you want to buy on categories such as Groceries, Vegetables , Fruits etc so that you won't miss an item while listing. You can group items depending on the categories present at supermarket.
You can share your list with your family members, friends and let them add items to the list.
Get notified when your family or friends at the store so that you can let them know you want something from there.
You can receive reminders so that you don't forget buying items.
It also supports SmartWatches so that you can get notified from your hand.
httpv://www.youtube.com/watch?v=9LtAj-QpfMQ