Capturing a screenshot on any Android, iOS or WP mobile is not that difficult. But, when it comes to capturing scrolling page screenshot, it becomes pretty difficult on any mobile or tablet. However, if you are using any computer (no matter whether it is running Windows, Mac or Linux), you can easily capture scrolling page screenshot using various tools like SnagIt, Ducklink Screen Capture etc. Nevertheless, today we are talking about capturing full page screenshot on mobile. You know that Samsung is one of the most popular Android mobile makers, which often try to compete with Apple, which makes iOS devices.
Let's assume that you need to capture scrolling page screenshot on mobile. Suppose, you want to show something to your friends but you have to capture the full webpage. Otherwise, nothing will be mentioned in that one page screenshot. Obviously, you can scroll down and capture screenshot one by one, but that would be time consuming and very awkward. On the other hand, it will take much more memory to send those files to someone over email or anything.
Now, if you have Samsung mobile, you will not get any problem. Generally, Samsung rolls out Android updates after a long time of official launch. That is why still some of the Samsung mobiles are still running Android Gingerbread. Anyway, but if you Samsung mobile that is running Android Marshmallow or later version, you can easily capture scrolling page screenshot within moments and that is even using without any app.
That means, that particular feature comes with your Samsung mobile running Android Marshmallow and later version. Therefore, if you have such device and want to capture full page screenshot, do follow this guide.
Capture Scrolling Page Screenshot on Marshmallow Running Samsung Mobiles
This is very easy and not much time consuming. As mentioned before, you do not have to install any third party app.
Therefore, at first, capture a screenshot on your Samsung mobile. That is the normal process that you used to do in order to capture any screenshot. In case you do not know the method, just press the power/lock button and home button together for a couple of seconds until it captures your screen.
The interesting thing is Android Marshmallow running Samsung mobiles will show your three different options (Capture more, Share and Crop) on your screen after capturing a regular screenshot.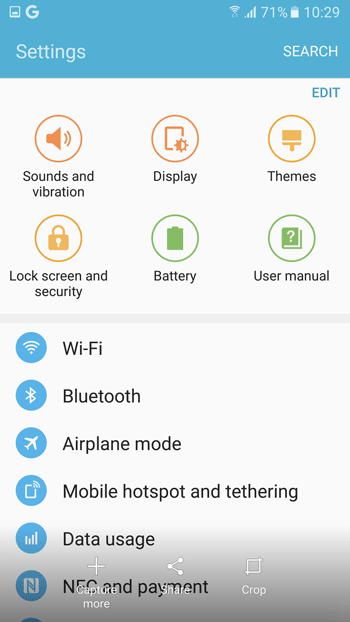 Therefore, just tap on Capture more button. That's it! Now, it will again capture your screen but this time, it will be a scrolling page screenshot.
No matter how long your screen is, but you can easily capture the full page using this simple method. Hope this tiny tutorial would be helpful for you.
Image Credit: PhoneArena