How to Check if Your Android Mobile is Working Properly or Not
If you can call or text someone or you can open Facebook and WhatsApp on your Android mobile, it doesn't mean that your Android mobile doesn't have any problem. If you are using a pretty old Android mobile, you should run this check at least once a month so that you can be sure whether your Android phone is working properly and not having any problem or threat. These apps will let you check your mobile's hardware as well as software so that you keep getting a smooth user experience.
Best Apps to Check if Your Android Phone is Working Properly or Not
We often forget about many features that our phones have. These following apps will help you unveil those features and check if they are working fine or not.
1. Phone Doctor Plus
It doesn't matter whether you want to test your cellular connection or proximity sensor or display, you can certainly do all of them with the help of this Android app, which is available for Android 4.0 or later version. Being available for free and for its wide range of features, Phone Doctor Plus has gained a lot of popularity in recent years. This app has different options so that you can check different things separately. This is possible to get a detailed checkup report of multitouch, touch screen, headphone jack, camera, flash, home button, volume control, receiver, and mic, wake button, and so on. Apart from that, it provides options to check GPS, vibrator, CPU and more others. After running a scan, it will show you a detailed report, which will contain every bit of information so that you can know which part of your phone is working fine and which part is not working fine. Talking about the user interface, you will get a very well-organized screen to choose various options. You can switch from one tab to another to get all the options it has. Download
2. Phone Tester
Phone Tester is comparatively a new application for Android that allows you to check all the components so that you can know whether your phone's hardware is operating correctly or not. This app is available for Android 4.0 or later version. Therefore, you can install it in quite old Android phones as well where you actually need it. Like the aforementioned app, this is possible to check almost all the components of your phone including different sensors, Wi-Fi connection, a cellular connection, GPS, camera, flash, battery, and more others. However, it doesn't come with some very internal features such as a vibrator and all. However, if you know that particular thing is working, you can try this app on your mobile. Regarding user interface and usability, you will get simple options so that you can choose the function from them and perform them immediately. As it shows a very detailed report from which you can recognize the problem. However, for that, you should have enough knowledge. Otherwise, you can show the report to someone else, who can scan that further. Download
3. Sensor Test
If you have bought an expensive Android phone and you think that your phone's sensors are not working properly, this is the app you need. As the name suggests, the Sensor Test app will let you test all the sensors you have in your mobile. It is available for Android 4.0.3 and later version. Therefore, you can test your sensors on all the old devices you have. Talking about supported sensors, you can test accelerometer, light, proximity, magnetometer, compass, gyroscope, barometer, etc. If you tap on a particular TEST button, you can find different graphics so that you can check whether it is working or not. For example, if you select the Accelerometer, you can find a soccer field where you can move the ball by tilting your screen. If something turns out badly, you can find that info right on your screen. Download
4. AccuBattery
It doesn't matter which Android phone you have, but the battery is always an important component of your mobile. If your phone a very good configuration but the battery is dull, it will end up ruining your user experience. If you are worried about your battery, you can install this free application that will let you check if your phone's battery is working correctly or not. As it is available for Android 5.0 or later version, it does support a wide range of mobile. Talking about features, you can measure real battery capacity, see how must wear your battery sustains with each charge session, remaining used time, remaining charge time, check the deep sleep percentage and more others. All these options are available in the free version. However, if you want to spend some money to buy the PRO version of this app, you can find even more functionalities. You can use dark and AMOLED black themes to save battery, access to historical sessions older than one day, check detailed battery statistics in notifications and more others. The most important thing is you cannot find any advertisements in the paid version. Download
5. Phone Check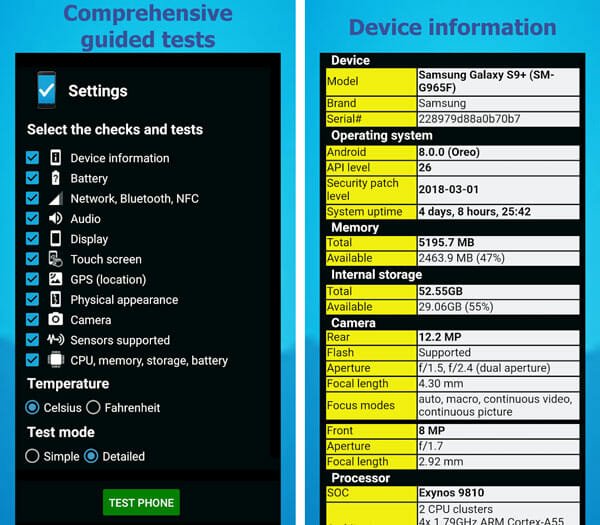 Phone Check app for Android is another awesome tool that is available for most of the Android phones as you can download it for Android 4.2 or later version. Like the first app on this list, you can test almost everything with the help of this simple application. From checking device information to test audio, sensors, flash, camera, display, and more others. This is very easy to find dead pixels with this app. Apart from that, you can run the CPU stress test, memory and storage stress test, battery usage, GPS and network test and so on. After running a test, you can find detailed information on your screen so that you can check and tell if there is any problem or not. As it shows a detailed report, you should not have any problem using it on your latest as well as old mobile. Download