Merely running an antivirus program like Microsoft Security Essentials and downloading Windows updates from Microsoft does not secure your computer completely. There are situations when your computer might be a victim of malware attack or being intruded by malicious programs.
Microsoft Baseline Security Analyzer (MBSA) is an easy to use tool that helps small and medium businesses determine their security state in accordance with Microsoft security recommendations and offers specific remediation guidance. You can improve your security management process by using MBSA to detect common administrative vulnerabilities and missing security updates on your computer system.
In the procedure of Windows update, the Microsoft's website is scanned for available updates. Windows notifies you about the available updates that are missing on your PC and then it installs the updates one by one.
By using MBSA, you can know about the security issues in multiple computers at a time. It scans for security update, update rollup or service pack related updates which are published on Microsoft Update website.
Following are the steps involved to use Microsoft Baseline Security Analyzer on your computer:
1. Download and install Microsoft Baseline Security Analyzer.
2. Run the tool and click on "Scan a computer" link. You can also select "Scan multiple computers" if there are more than one computers connected in a same domain.
3. The program will automatically detect the computer's name or domain name. You can also manually enter the IP address (internal IPV4) of your operating system.
To know IPV4 address of your computer, open CMD command prompt, type ipconfig and press Enter. All the important options are checked by default. Click on "Start Scan" button to start the process.
4. Microsoft Baseline Security Analyzer will start scanning your PC (or multiple PCs in your network) and download all relevant security update information from the Microsoft website.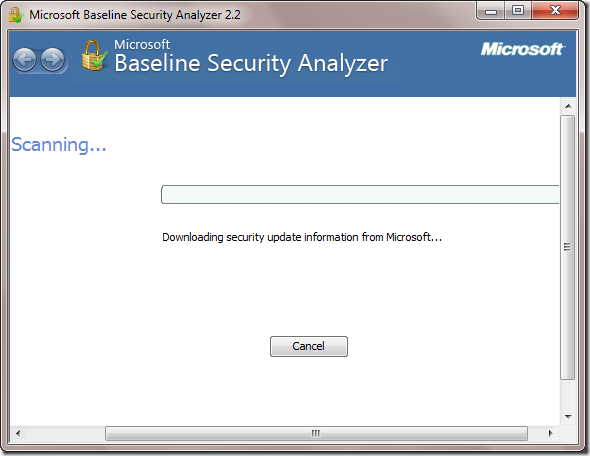 After a few minutes, the program will display the results. I tried the tool in my Windows7 computer and the results indicates that that my computer is at severe risk.
The program will display all the issues pertaining in your computer, in my case the reasons were as follows:
Not all hard drives are using the NTFS file system.
Incomplete Updates: Because I didn't restart my computer the last time Winodows downloaded and installed the updates from Microsoft website.
Password Expiration
This tool also guides you on how you can solve a particular security problem in Windows. Just click on the "How to correct this" link given next to the every issues.
This way you can know and solve all the security related issues of your PC and make your computer super safe. Do try MBSA at least once and let us know your thoughts in the comments below.