There are a lot of tools that bring Facebook chat on your desktop. But if you are strictly a Facebook chat person, Chit Chat is a neat tool to do that and that only from your desktop.
1. Download Chit Chat for Facebook and install it on your computer.
2. After installation, start Chit Chat and enter your Facebook login details to start chatting.
3. As you hit the "Sign In" button, the tool will ask for your permission (only at the first run) to update your Facebook status with their promotional link (optional).
4. As you log in, you can view your online as well as offline contacts. Double click any online contact to start chatting with him.
Send Private Message Or Write On A Friends Wall
You can also write on your friend's wall or send him a private message using the tool. Right click on any contact (online/offline) to get the options.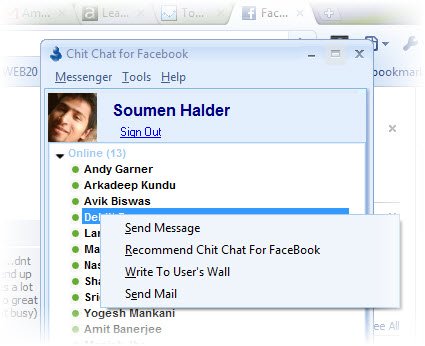 Chat Notifications
Like any other chat tool, this application also notifies you when any of your contact comes online or goes offline. You can turn these On/Off from preferences of Chit Chat. Go to Tools > Preferences to configure the tool.
Chat Logs
This is also a nice feature that really got my attention. You can see the chat for any previous chats with any friend.
Two Things And I Would Have Liked This More
1. Invisible Mode : I know that it is not a Facebook Chat feature, but there are ways by which you can appear invisible in Facebook chat. And since this tool has chat as its primary concern, an invisible mode would have been great.
2. A serious bug : The chat gets logged out if you login to Facebook using your browser. I think this is annoying, because if my friend on chat shares a Facebook note with me, I can only view it after I log in to my account using my browser. In this case, I can't.
On a concluding note, I must mention again that, though this tool lets you perform all necessary Facebook actions, it is primarily meant for chatting with Facebook buddies. It does the job in a very simple way without cluttering your desktop with loads of other Facebook alerts and notifications. You can also try Digsby, a nice free tool to chat with your Facebook friends from your desktop.