In present technology days, there are many innovations in every field. In this, the way we communicate is changing rapidly. From mobiles to tablets, everything is getting updated. Among them, wearable devices are also making their part. We already came across some wearable devices like watches. Now, it is the time for Bracelet. Yes, Paris based company invented the Cicret Bracelet. This is somewhat innovative and different when compared to other wearable devices.
Cicret Bracelet turns your skin in to a tablet. It does not have any screen to display. It uses the skin of your arm and it display everything on the screen. Just twist your wrist and the game begins. It projects the screen on the skin and you can operate on the skin itself. It connects with your mobile and can operate it on your skin. It allows you to read eBooks, check and reply to your emails,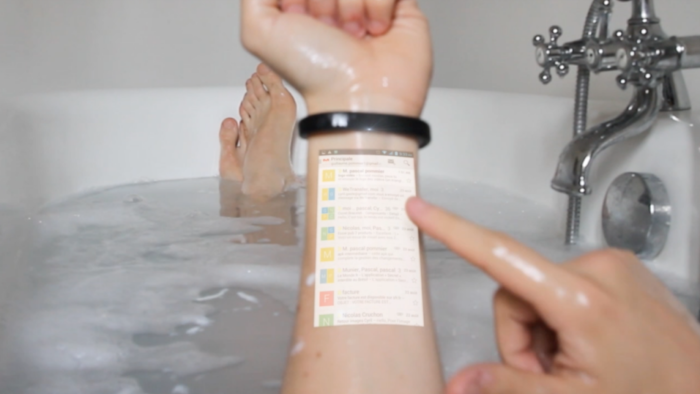 It uses projector and the eight proximity sensors. With the help of projector, you can see the screen of your device on your skin. These eight proximity sensors, follows and identifies your fingers gestures and will take them as an input. Cicret Bracelet is embedded with accelerometer, processor, memory card, LED Notification lights and vibration module.
"Pico projector" and the eight proximity sensors plays the crucial part here. When the projector is ON and the screen is on your skin, if you use your fingers to do some operation, it stops one of the sensors and sends that back to the processor and the respective action takes place. Respond to your calls, play videos and everything which can be done by your smart mobile right through the skin. You can do all these without touching your smart phone and it is really interesting.
   You can even play your game when you feel bore and can check weather on the way. Now the company is going for crowd funding and want to release it in 2015. This would cost around $400 and the accurate price was not yet known.
You can understand it clearly by this video. Really, it is a good innovative in the field of technology.
So, Cicret Bracelet is really a revolution in the section of wearable devices. If you have any more information about this, please do share with us through comments. You can donate through the official website.
Source: Official Website