Convert Your Files to Any Format with Ease using Format Factory
Are you looking for the best file format converter?
I know there are a number of them available on the web right now. But you are confused to choose one. All of them have a lot of enchanting offers and features. So no wonder, you are confused!
I have been using only one converter since I purchased my computer. And, it never let me down. That's why I have decided to share the same with you so that, you will not face the confusion anymore.
Introducing Format Factory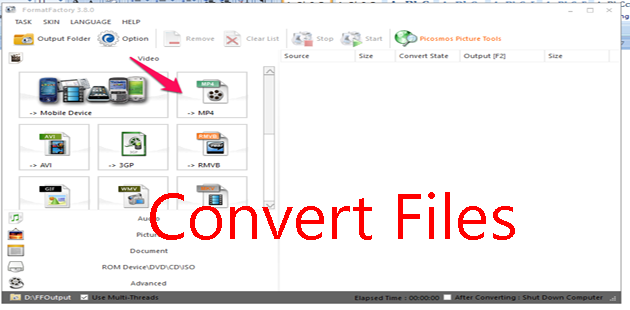 Format Factory is a file format converter you can use to convert video, audio, picture and documents. While most of the converters offer support for only one type of files (video or audio etc.), Format Factory has widened the support to almost every format.
In this article, you are going to find out how to use Format Factory to convert files effortlessly.
Are you ready to find out how? Here you go!
How to Convert Files using Format Factory?
I have divided the process into different steps for your convenience. And, you will never find it difficult to convert a file anymore after reading this tutorial.
Step 1: First, you have to download the installer. Visit this page to get the download link. Then, you will get multiple choices there. You can also download an online installer from there which weighs only 1 MB.
Step 2: Once you download the file, double click on the same to open it. You will see an installer gets opened just like you install any software. Proceed to the steps without thinking much. If you want to change the installing location, you can do it too.
Step 3: When the installation finishes, you can see an icon on the desktop. Just double click on the same to open it.
Step 4: First, you have to select a format from the left pane. The formats are given in five categories there. If you want to convert a video file to MP4, you should choose the same beneath Video.
Step 5: On choosing the format, you will get a new window. Click on Add file to get a browsing dialogue box to choose the source file.
You can also change the output settings like quality, resolution etc. from there.
Step 6: After setting everything up, you should press Ok. Then, click Start from the main window. In case the video file you have chosen is big in size, it will take considerable amount of time to finish the process.
Lighter files get converted to the desired format without waiting much. You can find the output file directory on the interface itself.
Wrapping Up
I hope you have found my guide on how to convert files with the help of Format Factory useful. If you want any help regarding this article, feel free to ask the same using the comment form down below.
Do you have any friend who always complains about the size of video files to be stored on his/ her mobile? Just help him solve the chaos by sharing this article with him.