If you are a fun loving person and always wanted to create comic strips for any of your projects or just for fun, here is a simple online comic strip generator which can be used to make comics with absolutely no effort.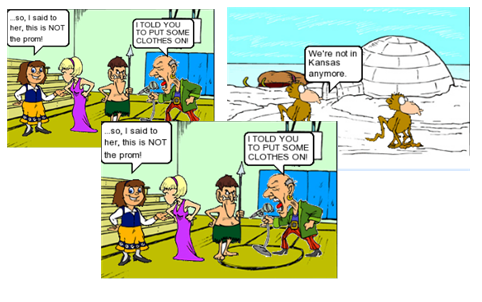 Write Comics is a simple tool which can be used to create fun looking comic strips online. The site has a good collection of funny backgrounds, carton characters and creative speech bubbles.
To make a comic, all you have to do is select an appropriate background from any of the available templates and then add the comic characters to it. When you are done adding all the characters of your comic, you can add speech bubble at appropriate positions so that the comic turns out to be a "Scene" and conveys some message to the viewer.
When the first scene of the comic is created, create a new scene and add the same background or choose a different one. Next add the same characters and some speech bubbles to create the second scene of the comic. This procedure continues until your comic story is complete.
Now you can download all the comic scenes in JPG format and store it in your hard drive. The site does not allows you to upload an image from your computer and convert the image into a comic, you can only choose from the available backgrounds at WriteComics. Pretty decent for anyone who wants to create comics without having to use Photoshop, GIMP, Irfanview and other advanced image editing software programs.
No registration or sign ups are required to use the service.