Windows live skydrive is one of the best online services for backing up files, images, documents etc to the cloud. The service offers a hefty 25 GB of free online storage and is provided by Microsoft to all users who have a Windows live ID.
Apart from storing regular files, Skydrive has a very good document processor which allows you to create Word documents, Excel spreadsheets and PowerPoint presentations directly from the browser. These documents are stored in your Live Skydrive account and can be shared with anyone, apart from allowing other collaborative features (just like Google Docs).
If you want to create or edit documents stored in Windows Live Skydrive account directly from Microsoft Office, here is a free office add-in which will help.
Office Live Files lets you sign in to your Skydrive account directly from Microsoft office. After the add-in is installed, switch to the "Office Live Files" tab and sign in with your Windows live account. You would then be able to browse to any Skydrive folder and upload any file, not just office documents. (see example)
The impressive part regarding the add-in is that you can load any document from Skydrive, directly in the Microsoft Office interface. Then the document can be edited as usual. When you are done editing the document, the changes will be synced to the document that's stored in your Live Skydrive account. Impressive !
Note: You will see a warning message e.g "This file originated from an internet location and might be unsafe". Ignore the message and hit "Enable Editing" to start editing the document.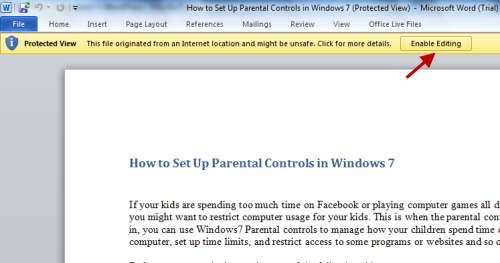 The advantage of using Office Live add-in is that you don't have to fire up a web browser, just to edit a document from your Skydrive account. You can edit any Live Skydrive document directly from desktop.
Office Live add-in Works with Office 2007, office 2010 and earlier versions of Microsoft Office. Give it a try !
Tip: If you are a Google Docs fan, check out our earlier tutorial on creating and editing Google Docs documents from Microsoft Office
[ via ]