We have earlier reviewed Printing Facebook, the site lets you create a wall poster using the profile images of Facebook friends. You can then order a printed hard copy of the poster from the developer's website. Once the order is made, the poster which consists thumbnail pics of your Facebook friends will be shipped at your doorsteps.
Now here is a unique Facebook application which will let you create a poster using the profile pictures of your Facebook friends. The resulting poster image can then be printed on paper or you can use screen capture tools to save the image on your computer's hard drive.
To create the free Facebook poster, go to Friendsnaps.com and hit the "Start making Facebook profile poster" button. You will have to add the Friendsnaps application to your Facebook profile and give the necessary permissions.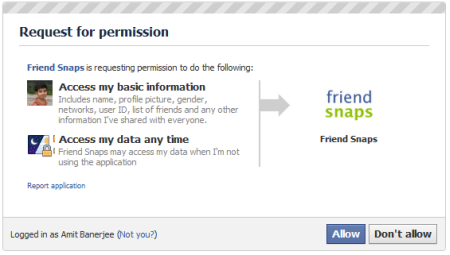 Once the app is connected, the application will randomly choose all of your Facebook friends and display the poster as shown below:
You can choose different background colors and dimension for the poster thus created. If you want to print the poster on an A4 sheet, hit the check out button and pay the sum of £19.99.
The only downside found is that there is no option to decide which of your friends appear in the poster mosaic. As an example, I may want to select only a few friends for the poster and not all of them. Despite this, the application does a good job in assembling all the profile images of your Facebook friends at one place. Give it a try !
Related: Create a poster using profile images of Twitter friends