You can do private browsing in older versions of Firefox just like chrome by creating an Incognito profile.
Firefox 3.5 has in built options for browsing anonymously. But what if you are still using  an older version and want to browse  anonymously. This tutorial explains how you can create separate profiles in Firefox and  browse privately.
Incognito in Firefox : Okay what does the Word incognito means ? The word came up with the launch of Google chrome that Means "private Browsing".  That means Nothing Is left over after Your Browsing Session expires ( browsing history, downloads, cookies, form data etc ). So If you want to Browse anonymously in Firefox it would be better if you create a separate profile rather  than using the default Firefox profile.
To create an "Incognito" profile in Firefox is easy , Just follow the simple steps :
1.Open the Run Dialog Box from start menu and enter the following command
firefox.exe -ProfileManager
This Will open the Profile manager dialog Box in Firefox.Create a New profile and Name it "Incognito" (or anything  of your choice).
2.Select the New profile and Start Firefox.This profile Wont Contain any of your Add ons or themes and Will be the default one After you have Installed Firefox.
3.Now go to Tools Preferences and  select  "Always clear my private data when I close Firefox" .
4. Create a Shortcut  that Runs the Following Command and place the Shortcut in Your Desktop.
firefox -P Incognito -no-remote
5. Open Tools –> options and perform the following actions
Uncheck the Check Box " Keep my History"

Uncheck "Remember what I enter in forms and the search bar"
Uncheck "Remember what I've downloaded"
Foe cookies Select the option " Until I close Firefox "
6. Write about:config in the Firefox Address bar and press Enter. Search for the Filter "browser.cache.disk.enable" and Set the Value to False by Double clicking it.
Again search for the Filter "browser.cache.offline.enable" and set the value to false.
By default Firefox saves Some local Files in the hard disk for quicker loading of your frequently visited websites. This setting makes sure that Nothing is stored in the Browser cache or in your computer hard disk.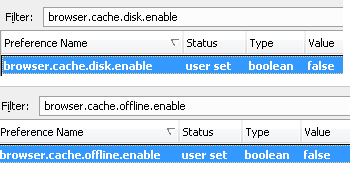 There You have it . You have just created a Firefox profile for Safer and Secure Browsing and Nobody Would no  which sites you visited and  what You have downloaded If You Use this Profile.