If you want to give a Vintage look to your photos or want to create a vintage photo effect from scratch, here are some tools worth exploring. You don't need to have photoshop skills or follow those advanced GIMP tutorials, all you need is a simple freeware utility called Photoscape.
About Photoscape: Photoscape is an advanced image editor for Windows which allows you to fix and enhance the quality of any picture. You can use this tool to add a variety of effects e.g grayscale, sepia, vintage or grunge.
Here are the steps to give a vintage look to any image using Photoscape:
1. Download Photoscape and open the image in the Photoscape editor for editing.
2. Click "Filter" at the bottom of the photoscape window and select "Antique photo", as shown below: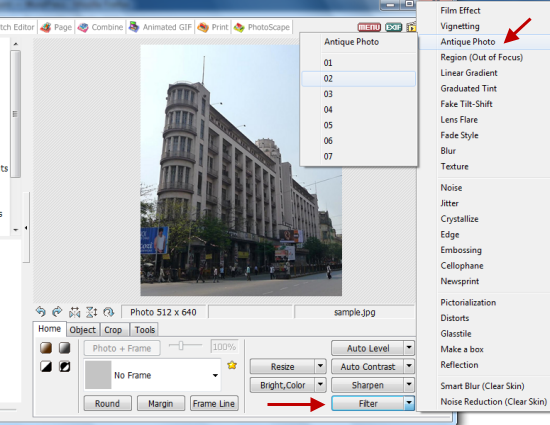 Then select a level for the vintage effect, the more level you choose the more condensed the effect becomes (2 or 3 is a moderate one).
3. You can also play around with other texture effects e.g film effect, lens flare or choose a different texture pattern. When you are done adding all the effects, hit "OK" . The chosen effects will be applied and you will get the same picture with an olden vintage look.
Here is an example picture which compares the look of the original photo with it's modified "Antique version"
Online Tool to Give Old Effect to any Picture
If you don't want to install another software on your computer just for the sake of producing a simple photo effect, give Vintage photo generator a try. The website is in Chinese, but that should not be an issue because you have to select the image from your computer and hit the go button.
The image will be resampled and the website will convert the picture to look like an older photograph, as shown in the above screenshot. Then you can download the image in JPG format.
Also check out our earlier photo editing tutorials on creating cartoons,  comic strips and more image editing tools.