Back in December 2010, there was a rumor that Delicious might be shutting down any day and we showed you how to transfer bookmarks from Delicious.com to Google Bookmarks or other third party bookmarking services e.g Diigo (check the video tutorial here).
Today, the Delicious team has put up an FAQ page which clearly states that Delicious isn't shutting down but the company has been acquired by Steve Chen and Chad Hurley, the founders of YouTube. It's interesting to note that YouTube founders will use Delicious on their new Internet company named AVOS, which is yet to be launched for public.
Yahoo says that Delicious.com will continue to work normally until July 2011 and all your Delicious bookmarks will be automatically transitioned to the new bookmarking service (AVOS), which is going to launch somewhere during August this year.
Transfer Delicious Bookmarks to AVOS
Starting today, when you login in to your Delicious.com account, you will see a notification screen which details a couple of information regarding your Delicious account, why Yahoo is shutting down Delicious and what happens to your Delicious bookmarks post migration. If you want to simply transfer the bookmarks from Delicious to AVOS, all you have to do is hit the " I Agree" button, which will confirm that you agree with the new company's terms of service and privacy policy.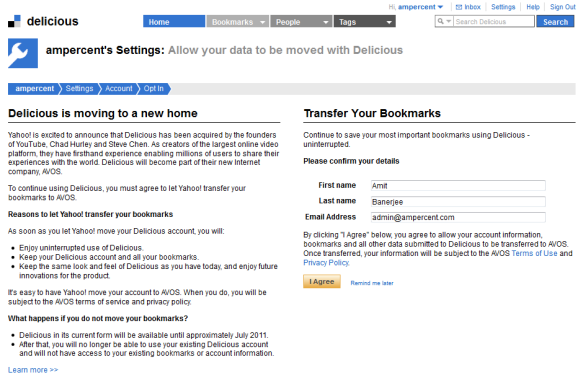 By opting in to migrate your Delicious date to the new company, you agree that your Delicious username, password, email address, account settings, inbox items, tags, notes, descriptions and bookmark bundles will be transferred under your account at the new bookmarking service. If you don't want to use yet another online bookmarking service or rarely use any of them, it would be better to manually backup all your Delicious bookmarks and data as an HTML file and import the HTML file to Google Chrome, Firefox, Safari, Opera or Internet Explorer.
What does the new company wants to do with a literally dying bookmarking service ? Expand it's feature set ? Add new dimensions or incorporate it with YouTube ? AVOS says that the idea to acquire Delicious from Yahoo is to solve the ever expanding problem of "Information overload"
We have no idea what the YouTube founders are up to and since, AVOS.com's official blog is down at the time of writing this post, we will have to wait for a couple of months and see the real purpose of acquiring Delicious