The California-based company, Hewlett-Packard or HP is one of the most reliable computer manufacturers in these days. Millions of people have opted for HP because of good service and well-manufactured device. It doesn't matter, whether you need a PC for work or personal usage, you can simply opt for HP, which has a lot of variants those can be found at a decent price range. However, here is a common problem among HP and Compaq laptops or Notebooks.
If your HP computer comes with pre-installed Windows, you will get this problem right after setting up your machine. Whenever, you will press Ctrl + Alt + S, a popup will come up to show system information. HP has included this keyboard shortcut to let users know the system information or hardware information within moments. This is sometimes very useful to check whether you have 4GB RAM or anything else.
However, suppose you use Photoshop a lot and you often save images for web. That means, you either use File >> Save for Web or the keyboard shortcut. The keyboard shortcut of "Save for Web" in Photoshop is Ctrl + Alt + Shift + S. Now, the problem starts here. Whenever you will press that keyboard shortcut to save an image for the web, you will get two windows on your screen. First one will show you the System Information and the second one will be related to Photoshop.
There are many people, who do not use Photoshop or keyboard shortcut a lot. For them, this predefined keyboard shortcut is fine. However, if you often face the aforementioned problem, here is a solution that will let you disable HP System Information popup on Windows. No matter, what version of Windows you are using, but you will certainly implement this solution.
Disable HP System Information Popup
This is very easy and most importantly, you do not need any third party software. You just have to rename the corresponding EXE file so that the keyboard shortcut can ditch the actual problem and eventually does nothing. Therefore, follow the following steps to get things done.
Just navigate through the following path,
C:\Program Files (x86)\Hewlett-Packard\HP System Event
Here, you should get a file called SysInfo.exe. Right click on this program and select Rename. Alternatively, you can press Function + F2 key as well. Now, enter any name that you want. You can enter SysInfoOld or anything else. While saving the new name, you should get a warning like this,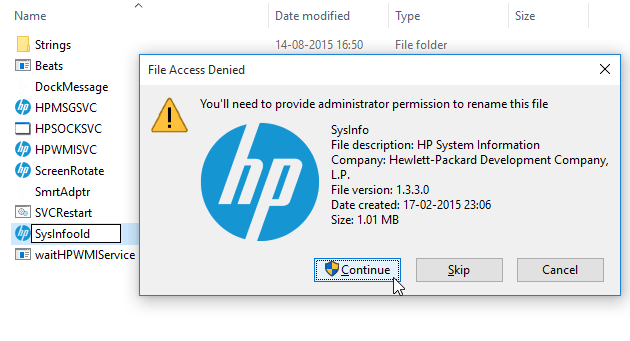 Just hit on Continue button. That's it! Now, you won't get the System Information popup all the times. If you want to revert it back, just rename the file SysInfo.