So you have got a whole bunch of photos and videos uploaded to your Facebook account and you want to keep a backup copy of these important assets to your hard drive. There are third party tools available to download Facebook photo albums and videos, but here is an official tool from Facebook which will allow you to download your Facebook information in minutes.
Using the tool, you can not only download your Facebook photos or videos but you can also create a complete backup of your Facebook profile data. This includes backing up wall posts, back up Facebook friend lists and other content which you have shared on your Facebook wall.
To download your Facebook profile data, log in to your Facebook account and click "Account settings" and then click "learn more" under "Download Facebook Information".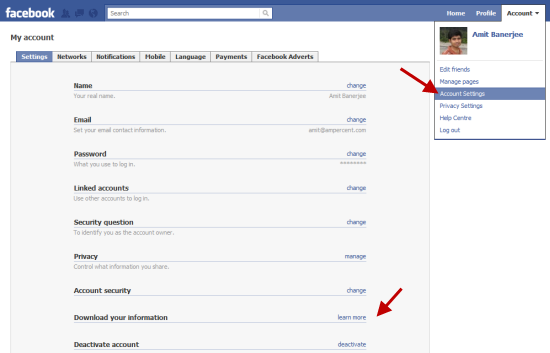 On the next page, hit the "Download" button and Facebook will start preparing a zip file containing the backup of everything that you have shared on Facebook. This might take a while, depending upon the content of your Facebook wall and the number of items shared. You will be asked to authenticate your identity, this is to ensure that your profile data is kept safe from unknown people.

When your Facebook profile backup is ready for download, you will receive the download link in the email account, used to sign up for Facebook.