You know that Microsoft has announced Windows 10 on September 30 and promised us to provide the preview version on October 1. As per the promise, Microsoft has just made it available to download the ISO image of Windows 10 technical preview. You can easily download the ISO file in different languages including English (Traditional), English (UK), Chinese and Portuguese.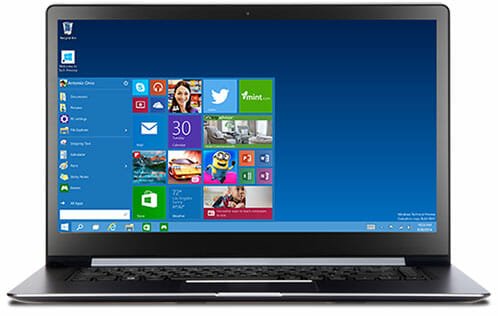 This is also possible to download both 32 as well as 64 bit of Windows in aforementioned languages. The size of those ISO files is not much huge like Windows 8 preview version.
Microsoft has included tons of improvements in Windows 10. According to this software giant, anybody from kids to gamers, IT pros to CEOs can use this operating system in their daily life. This one platform is designed for all of your devices.
Although, we have already written down all the new features of Windows 10 previously, still I would like to mention some of the most trending features of this new version of Windows.
Microsoft has included most lovable feature of Windows, Start Menu. The latest Start Menu will do even more task than previous. This would be capable to provide live tile as well as recently opened application along with some favorite app list.
The metro apps running is a single window is the second attraction of Windows 10. Yes! Though, Windows 8 allows users to use Metro based applications in a resizable window via third party software, now you can easily resize the app window. This is an in-built option to Windows 10.
The next big thing is Virtual desktop. In Windows 10, you can create virtual desktop to make an uncluttered desktop. You can organize your opened applications and all other windows by different desktop.
Windows 10 will let you snap four windows on a single screen. That means, it would be able to divide your screen in four parts and each part will contain a window. It is going to be much productive.
There are also some other great features like Task View button, Recently Opened apps etc. But you will have to install Windows 10 to get all of them.
Download Windows 10 Tech preview ISO
English (United Kingdom) 64-bit (x64)
English (United Kingdom) 32-bit (x86)
Chinese (Simplified) 64-bit (x64)
Chinese (Simplified) 32-bit (x86)
Portuguese (Brazil) 64-bit (x64)
Portuguese (Brazil) 32-bit (x86)
Serial key of Windows 10 Tech Preview
NKJFK-GPHP7-G8C3J-P6JXR-HQRJR
You can also join Windows Insider Program to get more details.