There is a new date and time pane in Windows 10 Technical Preview build 9926, which is hidden by default. Initially you can view the old date and time pane. But if you want to enable the hidden Windows date and time feature, then you have to follow a simple registry tweak.
When you click on the clock section of the Windows taskbar, the Calender and clock appear and by default it looks like the below picture.
There are many new things in Windows 10 and few of them are still being hidden from general users. The new time and date section of Windows 10 build 9926 is designed in a modern  metro UI.
Enable New Date and Time UI in Windows 10
Open Windows Registry editor with Admin privilege.
Navigate to following key:
HKEY_LOCAL_MACHINE\SOFTWARE\Microsoft\Windows\CurrentVersion\ImmersiveShell
Create a new DWORD(32 bit) value at the right pane.
Rename the value to 'UseWin32TrayClockExperience'.
Double click on it and modify it's hexadecimal value data to '0'.
That's all. Now restart your PC and when you click on the date and time section, you will see the new Calender section appear on the screen.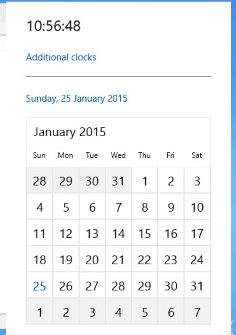 The new interface of date and time is designed basically for the touch screen users. With Tab and Arrow keys you can navigate between dates. However, this is a great attempt by Microsoft and every user should be benefited and they definitely will love the new date and time pane of Windows 10.