Are you looking for something new to wish your Facebook friend on his/her birthday? You can try the new video greetings from American Greetings. American Greetings has introduced a new Facebook app for birthday wishes through video. This first ever online video greeting, named "Breaking Birthday News", incorporates Facebook profile photos and information to create a unique video greeting for your friend. It is customized exclusively for the recipient. The app is free for all Facebook users.
The app is available at AmericanGreetings.com's Facebook fan page.
The high quality video enhances your experience. Make sure you are connected to your Facebook account by clicking "sign in to facebook connect".
A box will pop up asking for your Facebook log-in details. Supply required information and click "Login".
For the first time, you have to allow AmericanGreetings.com to access your Facebook profile.
Now, you will see a box containing friends with upcoming birthdays on the right of your screen. Select a friend from the list. Click "Preview".
You may be asked to choose the gender of your friend depending on your privacy settings. The greeting will be customized with your friend's information automatically.
Once it gets completed, you can post it to your friend's Facebook wall.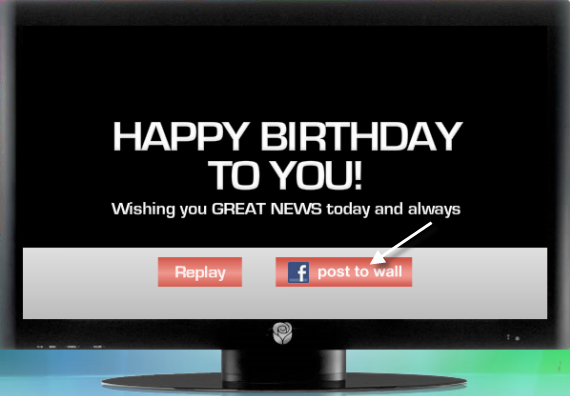 A box will pop up and you can include a message there. When all set, click "Publish" and the video card will be posted on your friend's Facebook wall.
It may happen that your friend's privacy settings prevent AmericanGrettings.com from accessing information. Unfortunately, in that case, you will not be able to post that particular video card. But, the best feature of this app is that it makes the video greeting card as realistic and personal as possible. It is fun to use this app. You can also check out all of the new e-cards for Facebook here.