Let's say you have a bunch of music videos stored on your computer's hard drive and you want to listen to the songs on your MP3 player which sadly, doesn't support videos. The MP3 player which you use to listen songs has very low disk space, hence it's better to use an MP3 version of the song, instead of it's video counterpart.
There are a good number of freeware programs, browser extensions and web based apps which let's you extract audio from a video file (e.g YouTube videos). Of the many video to audio converters out there, I prefer using AoA audio extractor because it supports a wide range of video formats e.g 3GP, AVI, MPEG, FLV, WMV, MOV, MP4 for video to audio conversion.
Convert A Video To Audio MP3 Using AoA Audio Extractor Basic
Here are the steps that needs to be done:
1. Download and install AoA Audio Extractor basic on your computer.
2. Click on "Add Files" and select the video files from your computer's hard drive. The program allows you to convert up to 3 videos simultaneously – so if you want to bulk convert videos to audio mp3, drag and drop multiple files within the "Add files" panel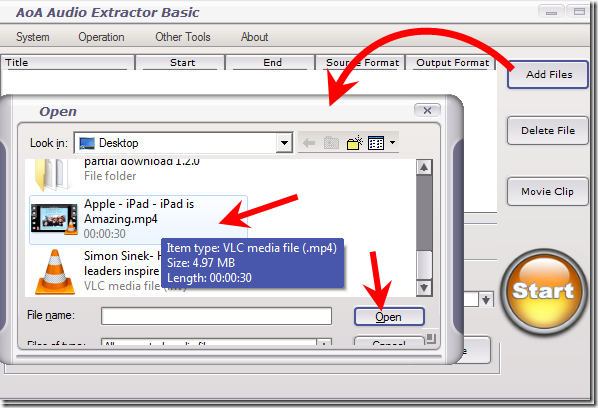 3.  The program also lets you extract audio from a specific portion of the video – this is useful when you want to skip the boring introductory music of a movie and want to cut the music video that starts at a specific point of time.
4. To start the conversion process,  right click on the video file name and choose "Select Movie Clip".
5. To save the audio from a specific portion of the video, move the slider to start and end points and click OK.
5. Select the output audio format, audio bitrate, sample rate, channel, and output path of the audio file. Then click on the "Start" button to start the conversion process.
6. The program will show you file conversion status in the program's interface. After the video conversion is complete, a notification appears which tells you that the files are converted successfully and saved in the desired location of your computer's hard drive.
That's all. Now transfer those audio files to your audio device (MP3 player, mobile phones) and enjoy it while you are traveling. Also do check out earlier tutorials on splitting YouTube videos and splitting MP3 files online to create cool ringtones for your mobile.