Facebook is already all over the web with the introduction of Facebook social plugins, the "Like" button and Facebook fan boxes for blogs and websites. Recent reports from credible sources confirm that Facebook may launch a commenting system for blogs and websites over the course of next few weeks.
Contrary to a commenting system that Facebook has to offer, most blogs have their own built in commenting system. Webmasters who WordPress, Drupal or Joomla as CMS have their own comments system while services like Disqus and IntenseDebate are hit among blogs that receive a lot of traffic and
A few days back Facebook introduced Real time comments in news feeds, helping users read Likes and comments in their profile wall in real time. Additionally, Facebook has long supported using Facebook's developer API with  "Facebook connect", using which bloggers and webmasters can integrate Facebook's commenting system in their web properties.

Facebook's existing commenting API has several advantages over other commenting modules like Disqus or Intensedebate.
1. Universal: The first advantage is that the comment identification is universal in nature and users don't need to create another account with any third party comment provider. Almost everyone has a Facebook account now, so users can simply sign in with their Facebook account and comment on the webpage in question.
2. Quick Sharing: Whenever a user posts a comments using the Facebook commenting system on websites, he/she can choose to share the comment on his Facebook profile wall. This makes sharing easy within a user's network, you don't have to copy the URL and the TItle of the blog post where you left a comment, simply tick the checkbox and it's there on your Faccebook wall.
3. Private Messages within Fellow commentators: Another neat thing regading Facebook developer API is that one commentator can send a private messgae to another commentator, directly from the comment form. This is regardless of whether the person is on your Facebook friend list, or not.
Following is an example: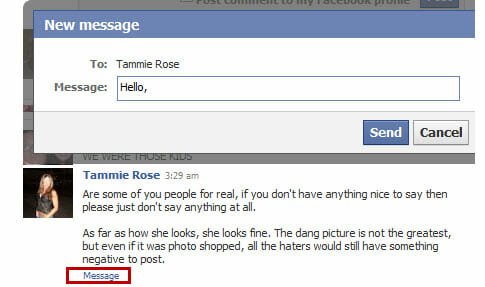 This feature can be spammy often times, but considering the fact that not many Facebook users are well aware of the privacy features can be useful at times.
The biggest advantage of using Facebook's comments is that all the comments are not stored on your blog. They are saved  with Facebook, so there is less maintainence and overhead on your site's database. If you are switching webhosts or migrating your domain, the comments system should continue to work just as fine – considering it's plug and play nature.
The newer commenting module is due to be rolled in a few weeks from now, as reported in this Techcrunch article.
As for this blog, we would stick to WordPress's own commenting module as of now.