Facebook Launches Facebook Lite – Fast Loading Facebook client
Who doesn't have a Facebook account? Almost 100% regular internet users have one Facebook account. Otherwise, it was difficult to cross the 854 million daily active users benchmark for Facebook.
Facebook has inaugurated a wonderful thing across different emerging countries. That is "Internet.org". This will provide free internet access to a major part of different rural areas. All these things commented somehow with Facebook Lite, which is a very light-weight Facebook client by the authority itself.
Facebook already had a Facebook application for different platforms including Android, iOS etc. All things are good except the data consumption. Anyway, let's take a deep look into Facebook Lite.
Facebook Lite is a very light-weight Facebook client. There are so many apps for various platforms, which is small but eats a lot of space on the mobile storage. However, Facebook Lite is not like that. It is just 252 KB and it has consumed only 760 KB even after using it for more than twelve hours.
Facebook's new client is consistent with Android platform only. It can be downloaded on Android 2.2 and later versions. There are thousands of dated Android mobiles those are running Android 2.3 etc. Facebook just want to let them use Facebook too.
In all the rural areas as well as all most of developing countries, a good internet connection is one of the major problems for daily internet users. However, the Facebook Lite application runs smoothly and very fast on a 2G connection. I have personally tested Facebook Lite with a poor 2G connection and the result was up to the mark. Obviously, it will take some time to load everything but the time is not so high.
The user interface of Facebook Lite is 70% same as the original Facebook application for Android. It comes with a flat UI and almost same icon pack. Alike a regular Facebook app user, you can check your Friend Requests, Messages, Chat with friends, Notifications, manage groups, pages and do all the things.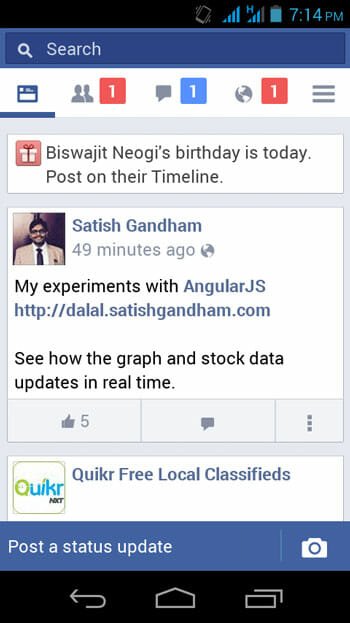 This small tool does not contain a load of settings. However, this is certainly probable to manage your account as per your wish. You can check your Account Settings, which contains General settings, Security settings, Privacy settings, Timeline and Tagging Settings, Blocking, Notification Manager, apps manager and more others. You will actually get all the things what the version provides.
To all these settings on your mobile, just head to the navigate the following options, Menu >> Settings >> Account Settings
Apart from this, Facebook Lite has an influential Push Notification Manager that is positioned in the "Settings". By default, Facebook Lite pushes all the notification on your status bar. But, if you do not want to be destructed by any unnecessary notification, just go to Push Notification settings and disable notification right away.
Alike the original Facebook app, Facebook Lite notifies you for new stories in real time. You just need to pull down your current stories to get new one.
Availability of Facebook Lite
Facebook Lite application is not obtainable in all countries across the globe. As of now, this is available in Nepal, Bangladesh, Nigeria, South Africa, Sri Lanka, Zimbabwe and some other countries. FYI, if you are from US or India, you will be greeted with the following error message on Google Play Store.
What do you think?
As it loads very fast, you can simply switch to Facebook Lite if UI doesn't matter. It consumes very less bandwidth compared with Facebook app for Android. On the other hand, older Android mobiles cannot use Facebook app because it makes those mobile comparatively slower.
Therefore, Facebook Lite would be a great solution for them.