Without a doubt, Facebook is one of the most popular websites  right now. This social media giant  already became a primary place to connect with people on the planet who use Internet. By announcing initiatives such as Internet.org, the company is trying to improve its reach and connect more people who don't have access to Internet by providing free access to use Facebook and other basic services. The company already announced first satellite launch on October to provide Internet.
Yesterday, Facebook announced it's Q3 earnings which show that the future with Facebook looks promising. The company announced $4.5 billion in revenue and $0.57 Non-GAAP diluted earnings per share on it's third quarter earnings report for the year 2015.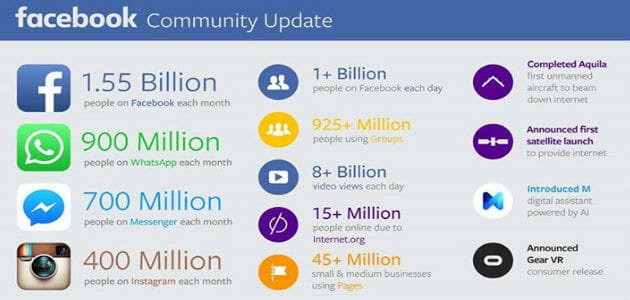 Mark Zuckerberg, the CEO of the company shared an update on Facebook today saying that
"Our community now has more than 1.55 billion people, including more than 1 billion people active every day. Through Internet.org, more than 15 million people now have access to the opportunities of the Internet who didn't before.We had a good quarter and got a lot done,We're focused on innovating and investing for the long term to serve our community and connect the entire world."
According to the report, the company now has 1.55 billion people using Facebook each month as of September 2015 which is an increase of 14% year-over-year and 1.01 billion people on average were using the site daily for September 2015, which is an increase of 17% year-over-year. And, as of September 2015, 1.39 billion people were monthly users of the mobile App, which is an increase of 23% year-over-year.
Now the Market cap value of the company is $289 billion. This quarter's results are all time high interms of statistics. You can access the full report here.