Facebook is one of the leading social networking website which helps us to stay connected with our loved ones. It has been coming up with new features regularly. It got updated with Graph search and later with showing trending topics on the left side in the desktop. It is going first for desktop and later updating the Application. Same is done with updating the trending features to mobile which was implemented for desktops few months back.
What is meant by Trending?
Facebook shows you list of topics which are very popular and it is called Trending. These trending topics depends on pages you like, pages you visit regularly, your location and what's new across entire Facebook. On Desktop, it is shown on the left side and on mobile, you need to tap on the search button and trending topics are shown.
 View more information on trending topics:
If you want to know or read more information about trending topics, click on any of the trending topics and it is organized in 5 different ways as follows,
Articles: This shows you how various news organizations are dealing with the selected trending topic.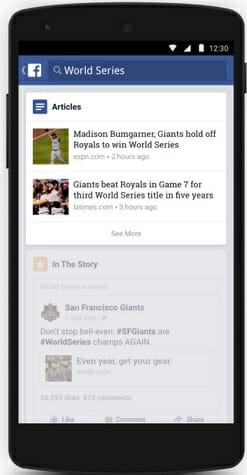 In the story: This shows all people who are related to that trending topic.
Friends and Groups: This shows posts or news related to that trending topic which was shared by your friends or groups which you have been the member. It shows what your group members and friends are saying about that selected trending story.
Near the scene: It shows the posts shared by the people who are near to that scene where the topic took place.
Live Feed: This shows the live stream of all information and posts being shared by people regarding this topic. This is done using hash tags and other sources which Facebook uses to categorize the content belonging to that trending topic.
Customize what you want to see in trending:
Facebook allows you to customize whether you want to see particular topic in trending or not. Suppose, if there are some trending topics being shown and you do not what one particular topic to be shown in trending section. The, follow these steps,
Move to trending topic.
Click on "x" mark beside that trending topic and this will hide that topic.
Give the reason for hiding the trending topic.
Source: Facebook Newsroom
For more, visit Facebook Help