Behind every account, there has to be someone who manages it, but in reality this is not the case always. Despite the best intentions of developers, Internet is full of spammers from the very early days and social networks are comparatively easy target as a platform to launch their garbage. Like other social networks, Twitter is no exception to this. Some Twitter accounts want to pile up a large number of followers. So they follow each and everybody in a hope that some of those accounts will follow them in a return gesture. Some of them are simply auto-tweeters. But for all of them you are just another number in their list. If you ever wondered how many of your followers are actual people and how many are fake, Fakers may interest you.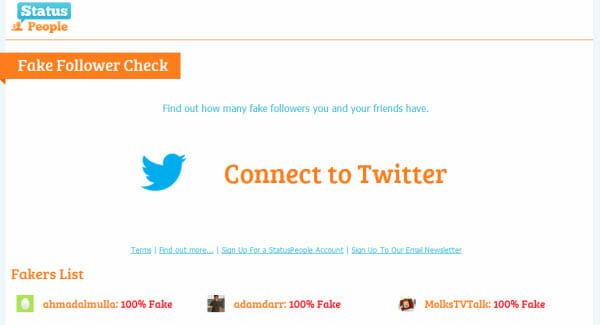 Bonus Tip: How to automatically un-follow Twitter followers who are not following you
This app Fakers from StatusPeople works on your Twitter account and after a scan your Twitter followers are classified into three groups: good, fake, inactive. How? Ok they have an explanation:
"We take a sample of your follower data. Up to 500 records depending on how 'popular' you are and assess them against a number of simple spam criteria.

On a very basic level spam accounts tend to have few or no followers and few or no tweets. But in contrast they tend to follow a lot of other accounts."
And about accuracy level they say,
"For those of you with 10,000 followers or less we believe our tool will provide a very accurate insight into how many inactive and fake followers you have.

If you're very 'popular' the tool will still provide good insight but may better reflect your current follower activity rather than your whole follower base."
The tool can't find out who the fake ones are. Hoping some later improvements may find that out too. But its definitely a working algorithm. Another app named TwitBlock does a fine job in pointing out those fake followers according to their algo and block or report them as well. In certain sense, Twitblock is a better option compared to Fakers. In case of my Twitter account I think the result is very close to be true. Test it and find out what it tells about your Twitter followers.