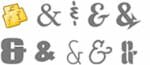 Ever wished to try out fonts used by Google in their services for your own projects? Now you can. Head over to Google Web Fonts and you can choose from 197 font families ( and even more ).
The interface lists all the available fonts that you can download from the Google Fonts directory. Every font comes with a nice preview so you can see how they look before you choose whether to download it or not. Once you have decided to download any font click the "Add to Collection" button (to the right) to add them to your collection. You can add multiple fonts to your collection and download the collection to get the chosen fonts all at once.
There is also a search feature that you can use to search for your favorite font in the Google font repository. Below the search box there are different filters which you use to narrow the search for the font of your choice.
The font preview can also be customized to get the feel of the text (say, you are looking for a font for your project/website header) you wish to use the font for. You can choose to edit the display text and its size. You can also choose to display the preview in three modes, word, sentence and paragraph.
Once you are done adding the fonts of your choice to the collection, you can go ahead and download Google web fonts to install them on your computer.
The fonts in the Google font gallery can also be used on any webpage adopting proper CSS methods. For that you need to choose "Use" from the bottom right corner (refer screenshot above). The page that loads next will help you with insights(impact on page load time) and procedures to use the font(s) on your web page.