No matter what plugins you use to stop content plagiarism, there will be always some people who will steal your content. Most copycats use RSS feed for copying content and the problem becomes worse when you syndicate a full text RSS feed. Each and every word of your article is copied along with all the images hotlinked.
There are so many tools to detect content theft on the web, but one of the problems with them in manual checking. Whenever you publish new content in your website or blog, you have to manually check whether someone copied your post or not. Here are some ways to automatically detect content plagiarism:
1. Fairshare – Detect Content Theft from RSS Feed
Fairshare is a simple and free web service which will notify you when someone copies content from your RSS Feed. All you have to do is provide the RSS feed of your blog and subscribe to the Fairshare feed in your preferred feed reader.
Once your site's feed URL is added, subscribe to the XML feed which Fairshare provides
Now the FairShare service comes into action and it will scan the web for possible violations. You will get notified in your feed reader whenever some text matches with your site's content. This includes blogs, forums, social sites like Facebook and so on.
2. Set up Google Alerts
Since the scrapers use RSS Feed for copying content, they will copy the entire article which consists your author byline in the begining of the article as shown below:
Now go to Google alerts and set up a comprehensive alert for your name as well as your website's name. Choose the type as "Comprehensive" and the delivery type as "RSS". When some scraper copies the entire feed, he will copy the author name as well as your website's name – this will trigger the Google alert and you will get notified in your feed reader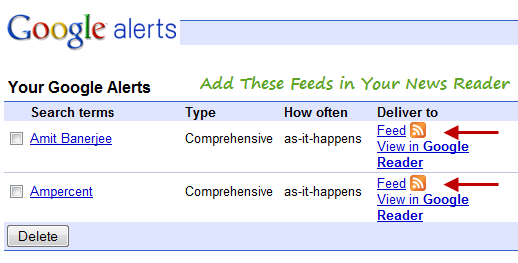 Here is how you get notified via Google Alerts when some webpage uses your RSS feed.
Note: There are tools like CopyScape and Article checker but they can not be used as auto detectors of content theft.